Accountability On Covid-19 Donations
The country's ability to manage the coronavirus's economic and health effects was severely put to the test in the wake of the pandemic. Oil price was low, the revenue coffer was leaking, and its citizens were made mandatory to stay indoors.
Total lockdown was imposed in the country in order to curb the spread of the virus, which almost led to the shutdown of the economy activities. There were lay-offs across most sectors, a drop in average purchasing power and loss of income. Various organizations including churches, and individuals came to the rescue by providing relief materials and financial donations as a buffer to fight this deadly disease.
List of The Contributors To CACOVID Relief Fund As At 30th Of June
[table id=2 /]
International bodies released funds and medical materials needed for the fight. The European Union announced a donation of $54 million to the Nigerian government; likewise, the German government donated €26million. The United Nations also sent 50 ventilators and personal protective kits that are valued at $2million while other private organizations and individuals donated to the Nigerian government.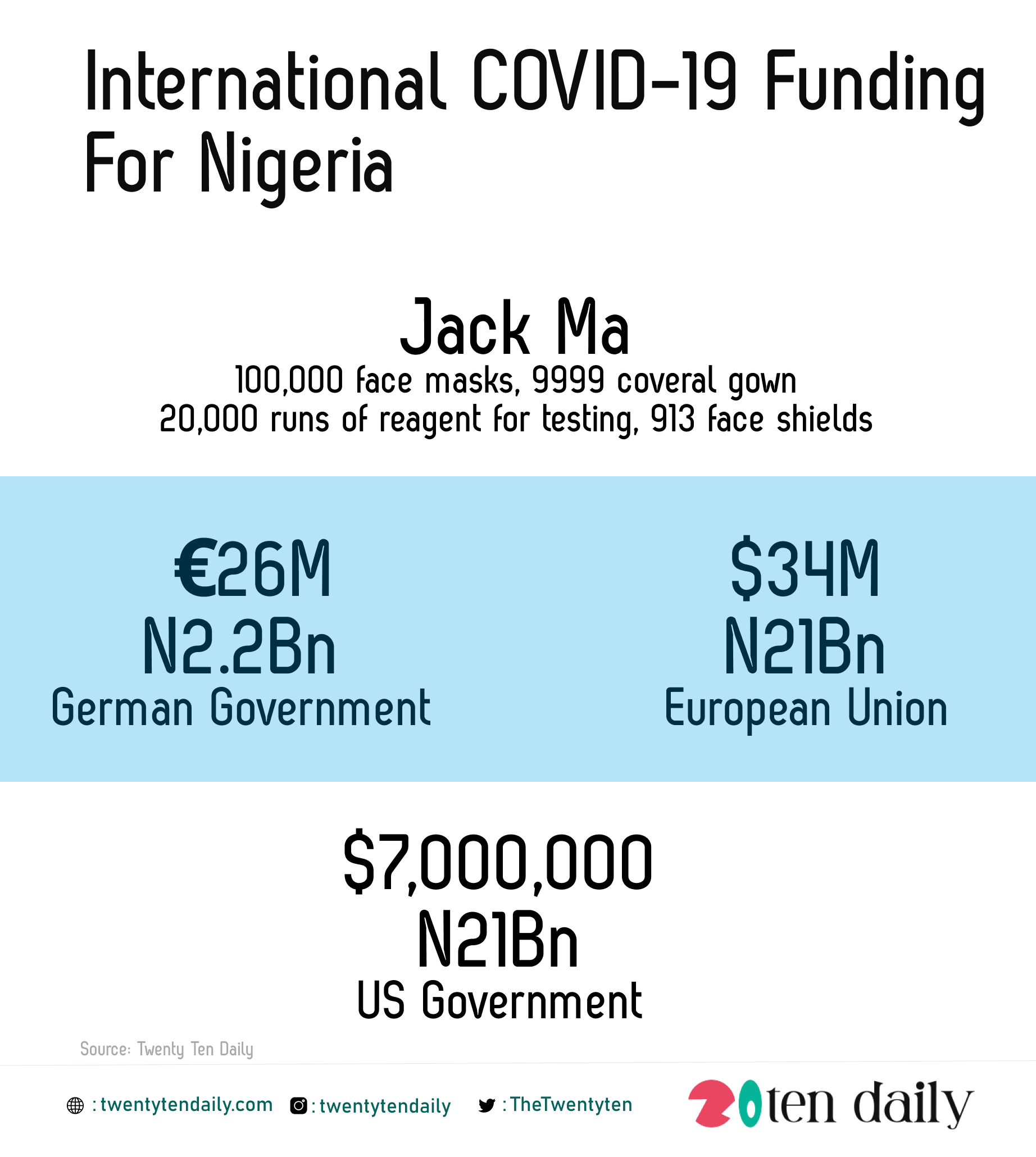 Various Stakeholders have been skeptical about the proper utilization of these funds. The recent looting of different warehouses where Covid-19 palliatives were kept for distribution draws many questions about how these funds have been managed and utilized.
States Where Covid-19 Palliatives Was Discovered In Nigeria
BudgIT, a civic organization that monitors and tracks government spending for transparency and accountability, stated that N213bn had been received from local and international donors as of July. The civic organization also revealed that only eight out of the 36 States had published details of how the N213bn COVID-19 funds were spent.
To adequately measure the effectiveness of the funds received, states need to be accountable and transparent to its citizens by publishing detailed information on how these funds are being spent.
The Federal High Court in November 2020 approved a suit filed by Socio-Economic Rights and Accountability Project (SERAP) and Heda Resource Centre that obliges the Central Bank of Nigeria, CBN, to release a comprehensive breakdown of all financial donations the country received to tackle the COVID-19 pandemic.
SERAP, a non-profit advocacy organization committed to promoting human rights, transparency, and accountability in governance, filed the suit at the Federal High Court, Abuja, seeking an order of mandamus to direct and compel relevant authorities to publish details of the funds and resources from federal and state governments as well as the private sector.
When the details of how the funds were spent are disclosed, it will enable the citizens to know how much effort has been put in place by state governments in the battle against this pandemic and reinforce their trust in the government.