Coup Leaders In Guinea Bars Foreign Travel For Government Officials
Colonel Mamadi Doumbouya, the controversial coup leader in Guinea has barred all government officials from leaving the country until further notice.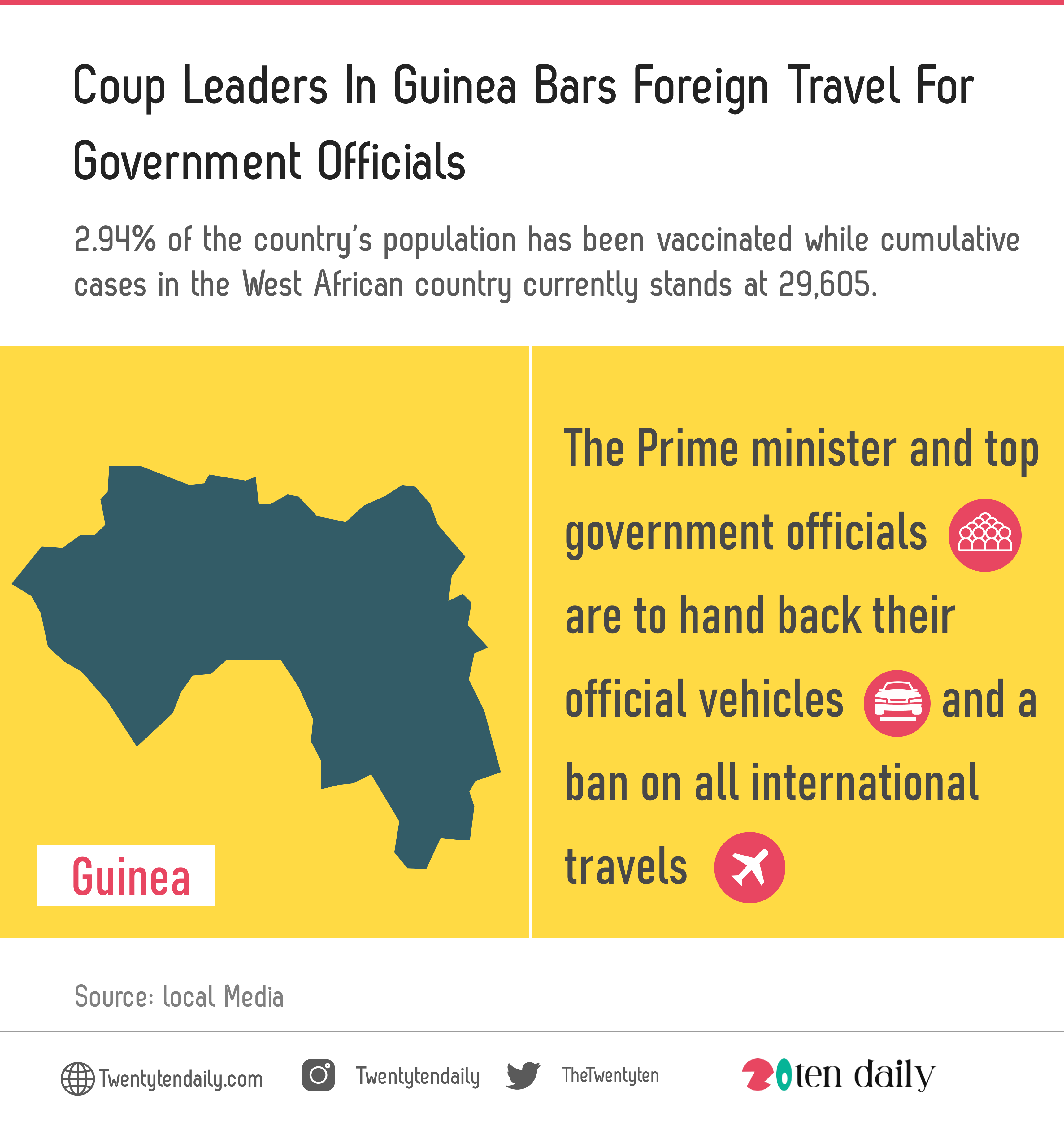 Colonel Mamadi Doumbouya, a former French legionnaire officer on Sunday overthrew Alpha Conde who has been president for over a decade.
Doumbouya told a gathering of Conde's ministers, including the prime minister and top government officials, to hand back their official vehicles while informing them of the ban on all international travels.
"There will be no witch-hunt," he said a day after the coup which drew international condemnation and threats of sanctions.
The takeover in the West African nation that holds the world's largest bauxite reserves, an ore used to produce aluminium, sent prices of the metal sky-rocketing to a 10-year high on Monday over fears of further supply disruption in the downstream market. There was no indication of such disruption yet.
Update from Guinea shows that light traffic has resumed in some parts of the capital although a heavy military presence is retained in most parts of the city.
The borders have now been opened and the curfew imposed in mining areas have been lifted.
However, uncertainty remains. While the army unit appeared to have Conde in detention, telling the West African nation on state television that they had dissolved the government and constitution, other branches of the army are yet to publicly comment.
Doumbouya said on state television on Sunday that "poverty and endemic corruption" had driven his forces to remove Conde from office.
Conde's 11-year rule was plagued with several allegations of corruption involving the country's Bauxite export. According to a sourced report dated March 23, 2021, an investigation was opened in Paris after a complaint about corruption in the exploitation of bauxite in Guinea comprising President Alpha Condé, several of his relatives and mining companies.
The preliminary investigation, opened by the National Financial Prosecutor's Office (PNF) in September 2020 followed the complaint about "corruption, influence peddling and corruption laundering", filed in August 2020 by the Collective for the transition in Guinea (CTG) against the now captive President.
Asides from corruption, Conde's government was also accused of inaccuracies in Covid-19 numbers. Only 2.94% of the country's population has been vaccinated while cumulative cases in the West African country currently stands at 29,605.