Nigerian Doctors Begin Indefinite Strike Over Unpaid Salaries
Doctors in state-run hospitals in Nigeria have begun another indefinite strike over unpaid salaries, insurance benefits and poor facilities amid fears of a third wave of coronavirus. This is the second strike action by doctors in the country in this year alone.
The strike by the National Association of Resident Doctors (NARD), which represents about 40 percent of doctors in Nigeria, started on Monday and is the second event of medical staff work stoppages in the country since the beginning of the year.
"The nationwide strike started at 8 am. It's an indefinite strike," NARD president Uyilawa Okhuaihesuyi told news agencies. "There will be no exemption for doctors handling COVID-19 cases."
He said the industrial action was to push the government to honour its agreement on pay arrears, hazard allowance as well as insurance benefits to families of doctors who have died of the virus.
"We are asking the government to pay insurance benefits of 19 of our members who have died in the line of duty," he said.
Okhuaihesuyi said Nigerian doctors were ill-equipped and under-funded for the job while the facilities in state-run hospitals "are deplorable".
He said some states owed several months of salaries and other benefits, adding that the strike would not be suspended until the union's demands were met.
"We appeal to Nigerians to bear with us. Doctors and their families are suffering. We can no longer pay our bills because of the government's insensitivity and neglect of our welfare."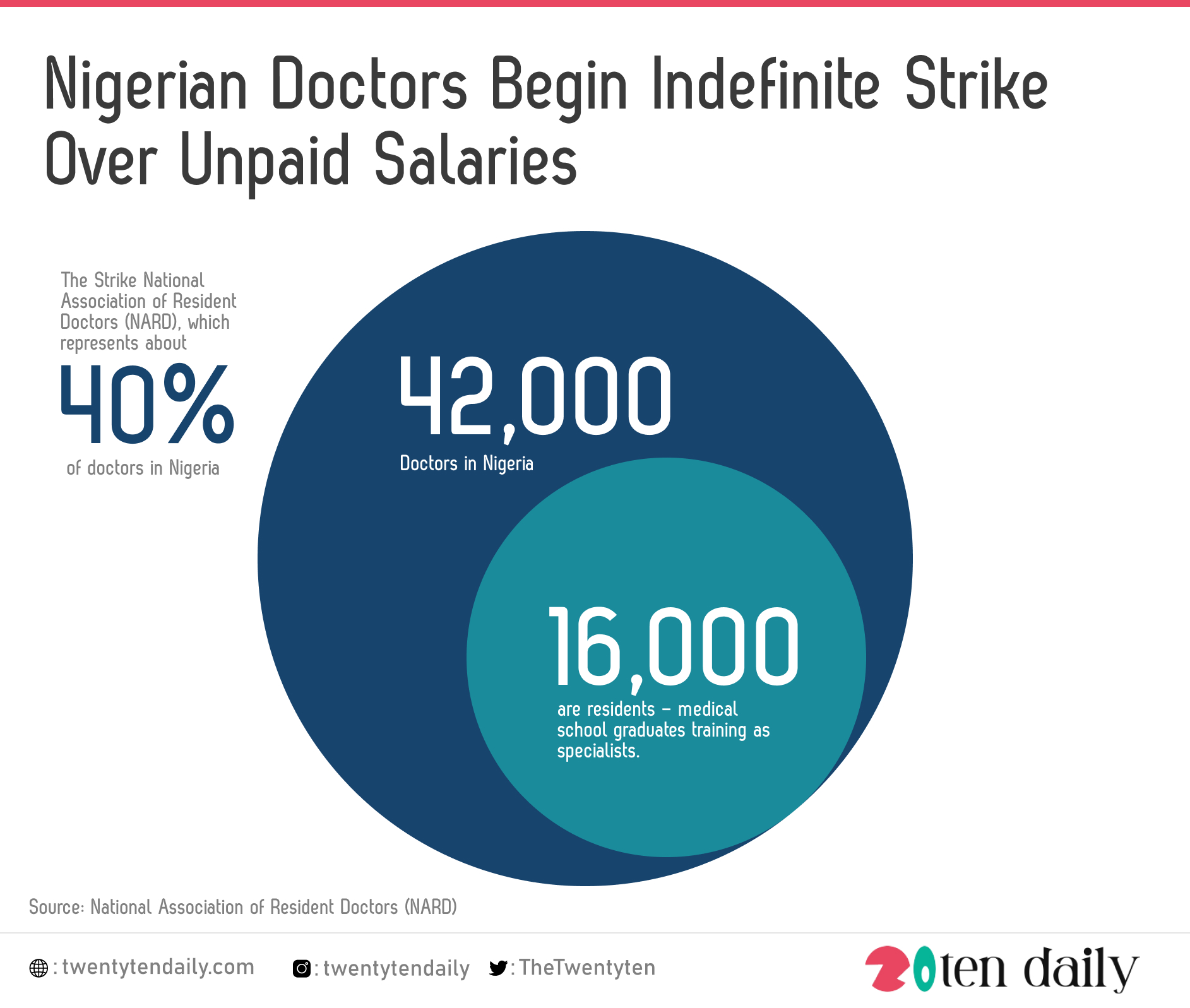 There are some 42,000 doctors in Nigeria, of whom 16,000 are residents – medical school graduates training as specialists.
Doctors have long complained of a lack of beds and drugs in hospitals as well as inadequate protective equipment. Other demands include life insurance coverage, a pay rise and payment of unsettled wages.