Jail Rape Convicts Sentenced To 15 Years Imprisonment In DRC
According to a report published in September 2020, fifty-six women were repeatedly raped during a three-day mutiny at Kasapa jail, Lubumbashi, a province in the Democratic Republic Of Congo. Three of the women were infected with HIV (which causes AIDS) and 16 became pregnant after the assault, according to lawyers for the victims.
A court in DRC found 10 prisoners guilty of raping over 30 women inmates and were all handed 15-year jail terms.
Prosecutors had sought 20-year terms against the accused, who were also sentenced on Wednesday to pay the equivalent of $5,000 to each of the women.
"We are satisfied with the verdict, [which came] after a long struggle to gain justice for my clients," Melanie Mumba, a lawyer for the victims, told reporters.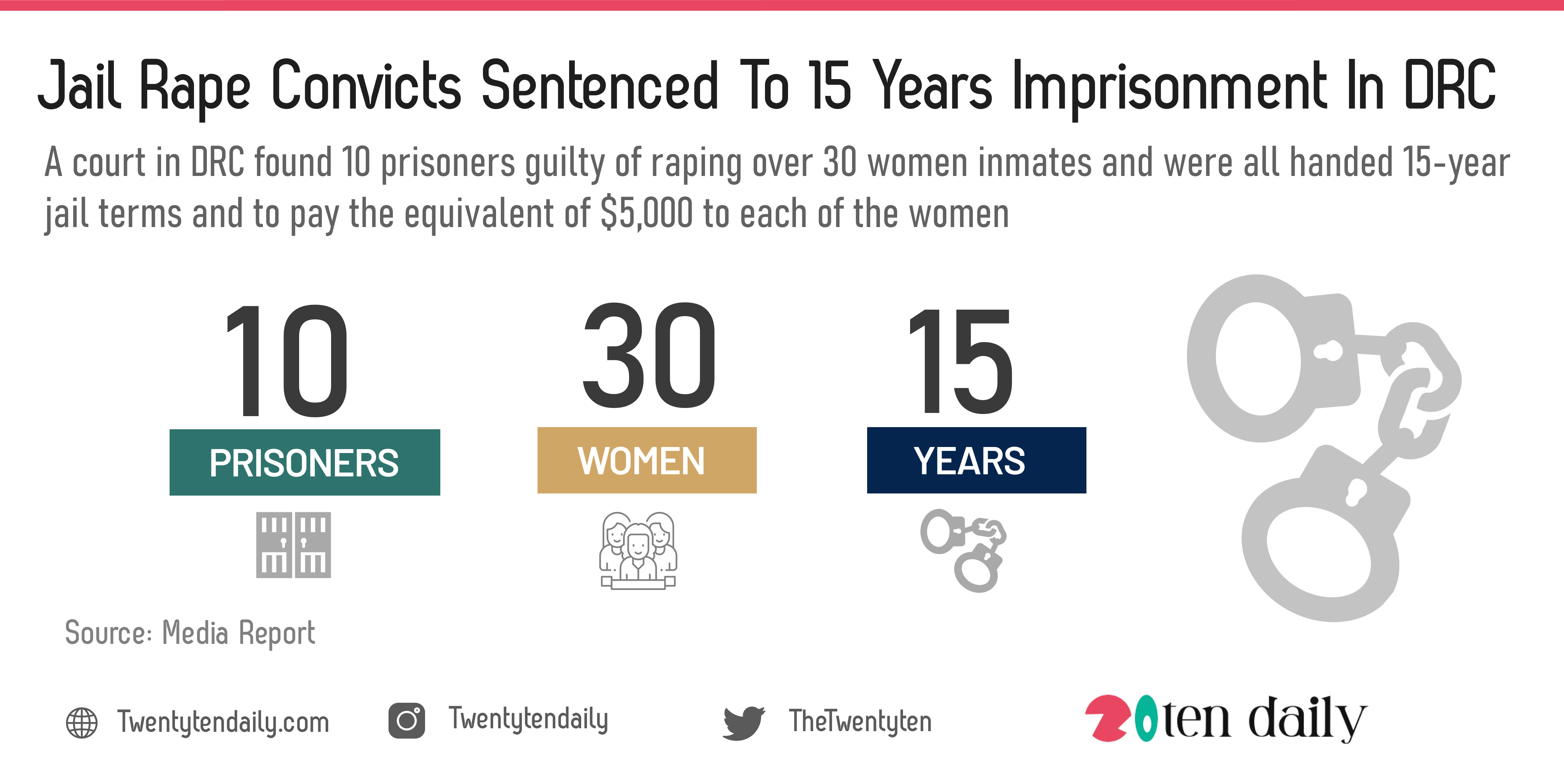 Defence lawyer Noella Bashizi said she would consult her clients about whether to appeal.
"It's the Congolese state which should be prosecuted – it's responsible for the bad jail conditions," she said.
The convicted prisoners took advantage of a three-day riot in 2020 at the Kasapa Central Prison on the outskirts of the city of Lubumbashi in Haut-Katanga province and committed the crimes.
" They stormed into the women's section of the prison during riots in the prison in September 2020 and raped them," Lieut. Peter Ntangalo, a security officer in Haut-Katanga, told reporters on phone.
Ntangalo said the women were able to identify the prisoners, who repeatedly raped them for three days.
According to a paper published by Freedom from Torture, rape, including gang rape and multiple rapes, is a very rampant menace in prisons across provinces in the Democratic Republic of Congo.
With evidence from 34 forensic medical reports, the paper showed evidence that security officials in the Democratic Republic of Congo (DRC) were major perpetrators of jail rape in the country. Politically active women between the ages of 18-62 were often sexually harassed or raped as punishment in the country's capital Kinshasa and other regions outside the armed conflict region.
In more than half of the cases examined by Freedom from Torture in the report, the women were gang-raped, with some instances involving up to ten rapists. In one case alone, a doctor documented 68 scars attributable to torture, 56 of which were attributable to one particular incidence of gang rape.
While the DRC has made several encouraging commitments on tackling sexual violence in conflict and conviction of jail rapists, it is fundamental that it fulfils its existing commitments under international law, such as complying with the UN Convention Against Torture, the report concluded.