INFOGRAPHICS: Forex Price Increase Over New Policy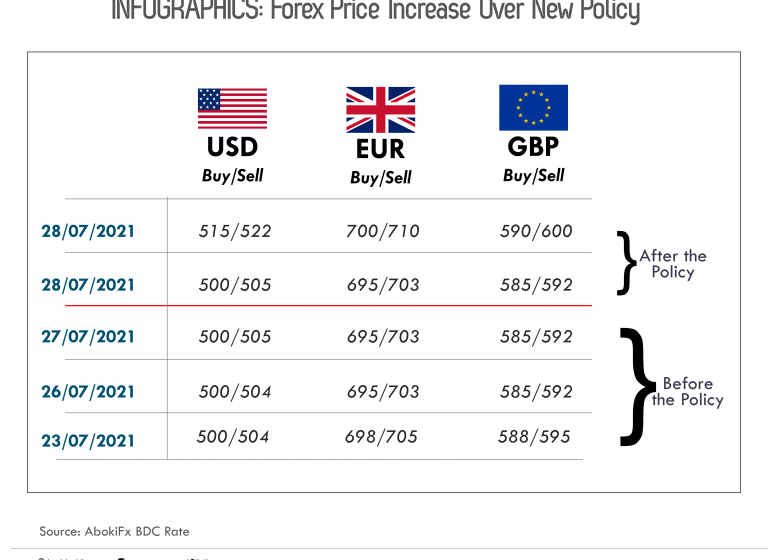 The Central Bank of Nigeria, last week, announced the discontinuity of forex supplies to the Bureau de Change Operators in the country.
The end of forex sales and new licence was approved after the Monetary Policy Committee two-day meeting.
BDCs were set up to receive a weekly supply of FX from the CBN for onward sale to retail end-users, that is, people who needed $5,000 dollars or less.
However, the CBN Governor, Godwin Emefiele said the MPC noted that the money changers had become wholesale dealers and illegally traded FX to the tune of millions of dollars per transaction.
According to him, the CBN receives about 5,000 fresh applications monthly for BDC registration as players continued to make huge profits while Nigerians suffered from the "dollarisation" of the Nigerian economy.
The apex bank also accused BDC operators of speculative, rent-seeking behaviour and involvement in money laundering activities.
"They have turned themselves away from their objectives," Emefiele said. "They are now agents that facilitate graft and corruption in the country. We cannot continue with the bad practices that are happening at the BDC market."
The CBN will henceforth channel weekly allocations of dollar sales to commercial banks to meet legitimate FX demands. The banks will be monitored to provide forex for the legitimate use of Nigerians.
He said, "Operators in the BDC have not reciprocate the gesture to help maintain price stability in the market since the CBN had been selling forex to them.
"They have remained renegade and so greedy, recalcitrant with abnormally high profit from these sales while ordinary Nigerians have been left to feel the pain and therefore suffer.
"Given this rent seeking behaviour, it is not surprising that since the CBN began to sell forex to the BDCs, the number of operators has risen from mere 74 in 2005 to over 2,700 in 2016, and almost 5,500 BDCs as at today.
"In addition, the CBN constantly receives nothing less than 500 new applications from BDC licences every month, and we therefore begin to wonder, what is in this business that everybody must be in?"
The BDCs, he observed, had continued to make huge profits while Nigerians suffered in pain.
However, the Association of Bureaux De Change Operators of Nigeria has assured members of the public that Bureaux De Change operators are still providing foreign exchange services adding that it would source for forex independently.
…