[Fact Check] All You Need To Know About The New USSD Rates
By now, many bank customers in Nigeria may have received the email or text from their banks notifying them of the charge on every USSD transactions.
John Akubuiro told TwentyTen that he got an email from Access Bank titled "Important Update on USSD Transactions". The mail informed him that a fee of N6.98 would be charged to his account on every banking service done using the USSD code. The amounts deducted would in turn be remitted to his network provider, MTN.
Other banks also urged their customers to make use of other electronic transactions available in the banks to avoid paying the fees.
The Unstructured Supplementary Service Data (USSD) is a critical channel for delivering financial services, especially for those who do not have access to physical banking infrastructure or internet services and the overboard charges especially during this period of economic downturn has kicked off a discourse on the foreseeable threat to financial inclusion.
Experts have warned that the new trend would cause an increase in cash transactions as many bank customers would try to avoid using the USSD for transactions. Some added that it could also discourage the unbanked segment of the population because they would not like to pay such charges over their little deposits.
Why The Charges?
Telecommunication company, MTN, first publicly communicated the USSD charges in October 2019 which was met with backlash from the general public. According to the company, they were the last telecommunication company to charge its customers for banking transactions.
MTN pointed that Bank Committees with the knowledge of CBN, approved the decision to charge the customers directly and that a total of N22 was agreed upon. However, the telecoms agreed to receive N4 from the N22, an agreement the banks have reneged on.
Minister of Communication, Dr Isa Pantimi, intervened on the matter and ordered its immediate suspension but by March 16, 2021, the decision to charge users was reached by the Central Bank Of Nigeria.
"Effective March 16, 2021, USSD services for financial transactions conducted at DMBs (Deposit Money Banks) and all CBN-licensed institutions will be charged at a flat fee of N6.98 per transaction," a March statement signed by the CBN and NCC partly read.
There was no plausible explanation for the increase of the charge from N4 to nearly N7 except what might be suggested which is that the banks might be trying to make up for the accumulated debts resulting from "protracted disagreements from both parties over an appropriate USSD pricing model".
It should be noted that during the period of disagreement between both parties, the Mobile Network Operators (MNOs) kept the USSD service running in the consumer's interest.
How Much Nigerian Banks Make From E-Banking
Nigerian banks rack in millions in E-banking and its other channels with no questions asked. Customers are charged on Intrabank and Interbank debit transactions and in recent times credit transactions.
They come up with bogus charges like the account maintenance charge and Electronic Money Transfer Levy which no one can exactly explain what these terms mean.
In E-banking revenues for 2020 alone, Access Bank recorded N56.1 billion, First Bank got N48.7 billion, UBA got N44.2 billion, Zenith Bank got N27.1 billion, and GT Bank got N11.8 billion.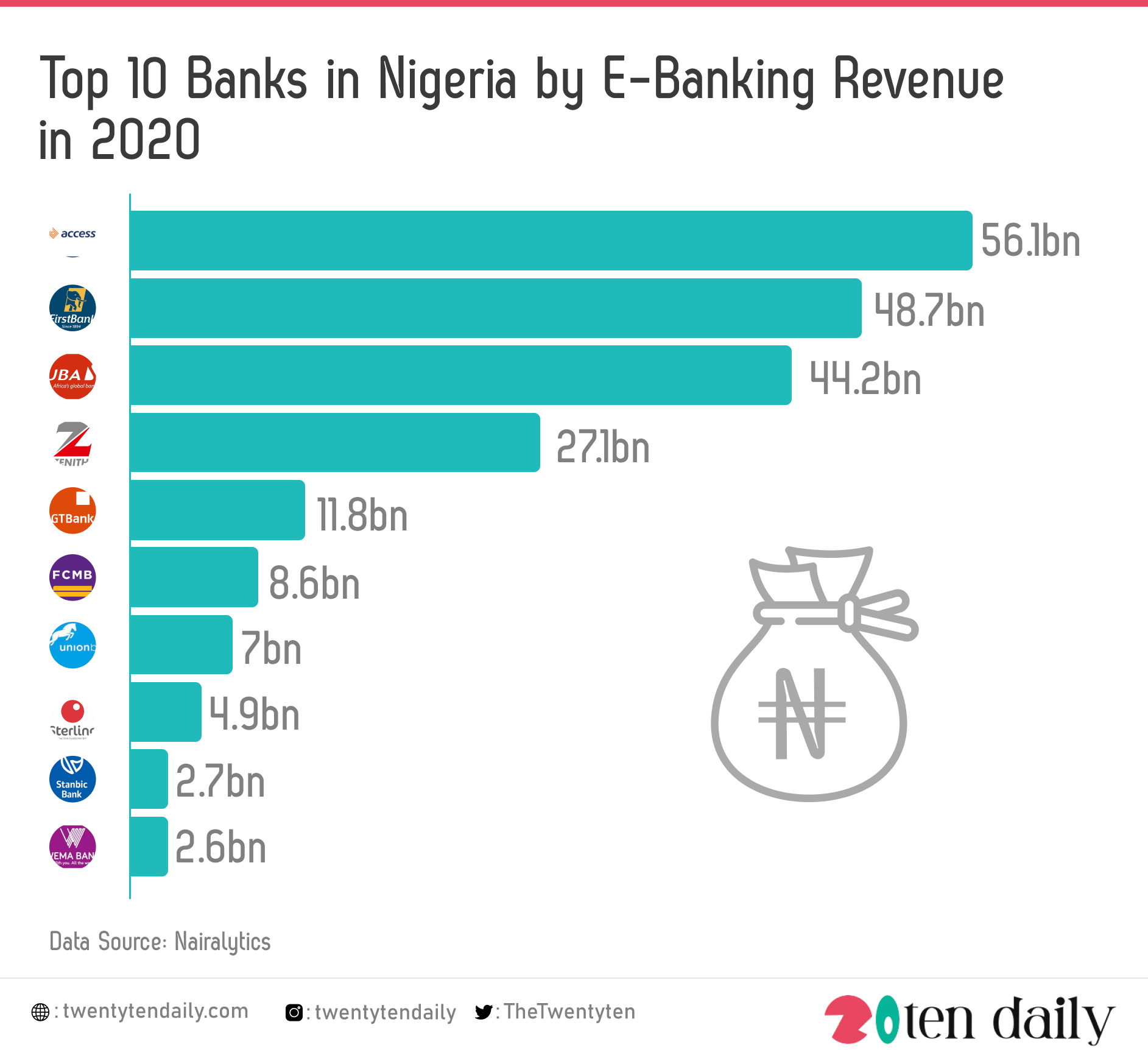 The tier two banks got impressive revenues on this channel too. FCMB recorded N8.6 billion, Union Bank recorded N7 billion, Sterling Bank got N4.9 billion, Stanbic IBTC recorded N2.7 billion, and even Wema bank recorded N2.6 billion.
Zenith bank got N21.8 billion as account maintenance revenue in 2020, Access Bank got N15.1 billion, First Bank got N12.8 billion, GT Bank got N12.5 billion, UBA got N8.5 billion, Stanbic IBTC got N3.8 billion while FCMB got N3.6 billion.
The obvious questions which the relevant agencies need to be asking are why the banks have refused to remit the charges previously deducted from customers to the telco providers, despite unfailingly deducting them from the consumers. Is it because the banks cannot afford to part with some percentage of the mammoth profits they make and would rather have the customers paying double charges than share their profit? and finally what is the government doing about this?