Banks' Consumer Loans Decline By 17%
Following a decline in money supply triggered by the inflation-fighting measures of the Central Bank of Nigeria, banks reduced consumer loans by 17 per cent (N400 billion), in one month.
This is the first time that consumer loans would drop in three years.
Consumer loans are loans by banks to one or more individuals for household, family, or other personal expenditures.
Consumer loans have been rising in Nigeria since September 2019 when the CBN introduced the minimum loan-to-deposit ratio (LDR) policy which stipulates that banks must give out 65 per cent of their total deposits as loans.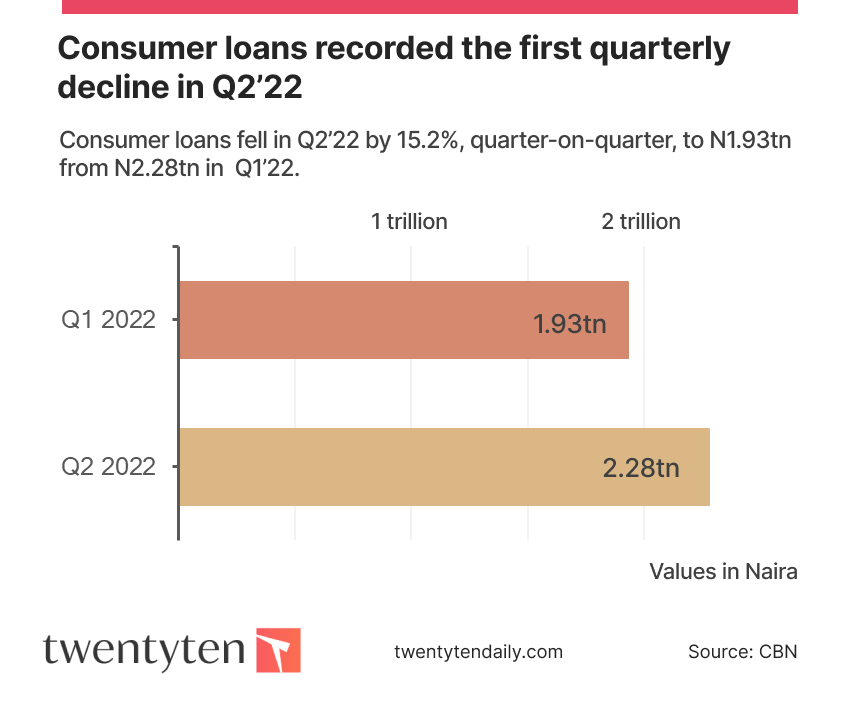 To this end, consumer loans rose steadily by 93 percent to N2.33 trillion in May 2022 from N1.21 trillion at the end of June 2019.
Data from CBN indicate that at the third-year anniversary of the product in June 2022, the volume dropped by 17 per cent, month-on-month, to N1.93 trillion from N2.33 trillion in May 2022.
Also, analysis of the data further showed that during the month, banks slashed personal loans to customers by 19 per cent, MoM to N1.45 trillion from N1.79 trillion in May. The banks also slashed retail loans by 13 per cent, MoM to N483 billion from N554.8 billion.
As a result of this development, Consumer loans recorded the first quarterly decline in the second quarter of 2022. According to the data Consumer loans fell in Q2'22 by 15.2 per cent, quarter-on-quarter, QoQ, to N1.93 trillion from N2.28 trillion in the first quarter of the year, Q1'22.
Following the same trend, the share of consumer credit in total private sector credit shrank by 2.1 percentage points to 7.2 per cent, from 9.4 per cent in Q1'22.
The decline in consumer loans in June was triggered by the decision of the CBN's Monetary Policy Committee, MPC, on May 24th 2022 to tighten the money supply in a bid to curb the continued increase in the prices of goods and services which triggered a persistent rise in the inflation rate.