Why The Anambra State Elections Was Declared Inconclusive
The electoral commission of Nigeria, INEC has suspended the collision of votes and announcement of results in Anambra State in what political party actors as well as voters opine might be a ploy to rig elections.
However, INEC Returning Officer of the Anambra governorship election, Florence Obi, has disabused these opinions, saying that the suspension was put in place to allow for a supplementary election to hold in 362 polling units in Ihiala Local Government Area on Tuesday, November 9.
Citing the Nigerian electoral act, Obi pointed that the election in Ihiala Local Government Area had to be completed before the overall results for the Anambra governorship election be announced as declared in the law.
Amadi, a registered voter from Mbosi in Ihiala LGA told a TwentyTen correspondent that INEC official were unable to deliver electorial materials at the different wards in the area due to fear of violent attacks and reports of persistent shooting since the beginning of elections.
Meanwhile, a recently acquired video shows an INEC official that was allegedly caught collating votes for Ihiala LGA despite the lack of elections in the different wards in the area.
We reached out to the Deputy Speaker of the House of Reps, Anambra State, Paschal Agbodike who reportedly caught the INEC official to verify the news as well as ask the general mood in Ihiala following INEC's declaration.
Agbodike told TwentyTen that elections did not hold in Ihiala due to security reasons. On the general mood at various wards in the LGA, Agbodike said voters were ready to cast their votes and also looking out to abrehend any official caught rigging. He added that the crisis area was well under control.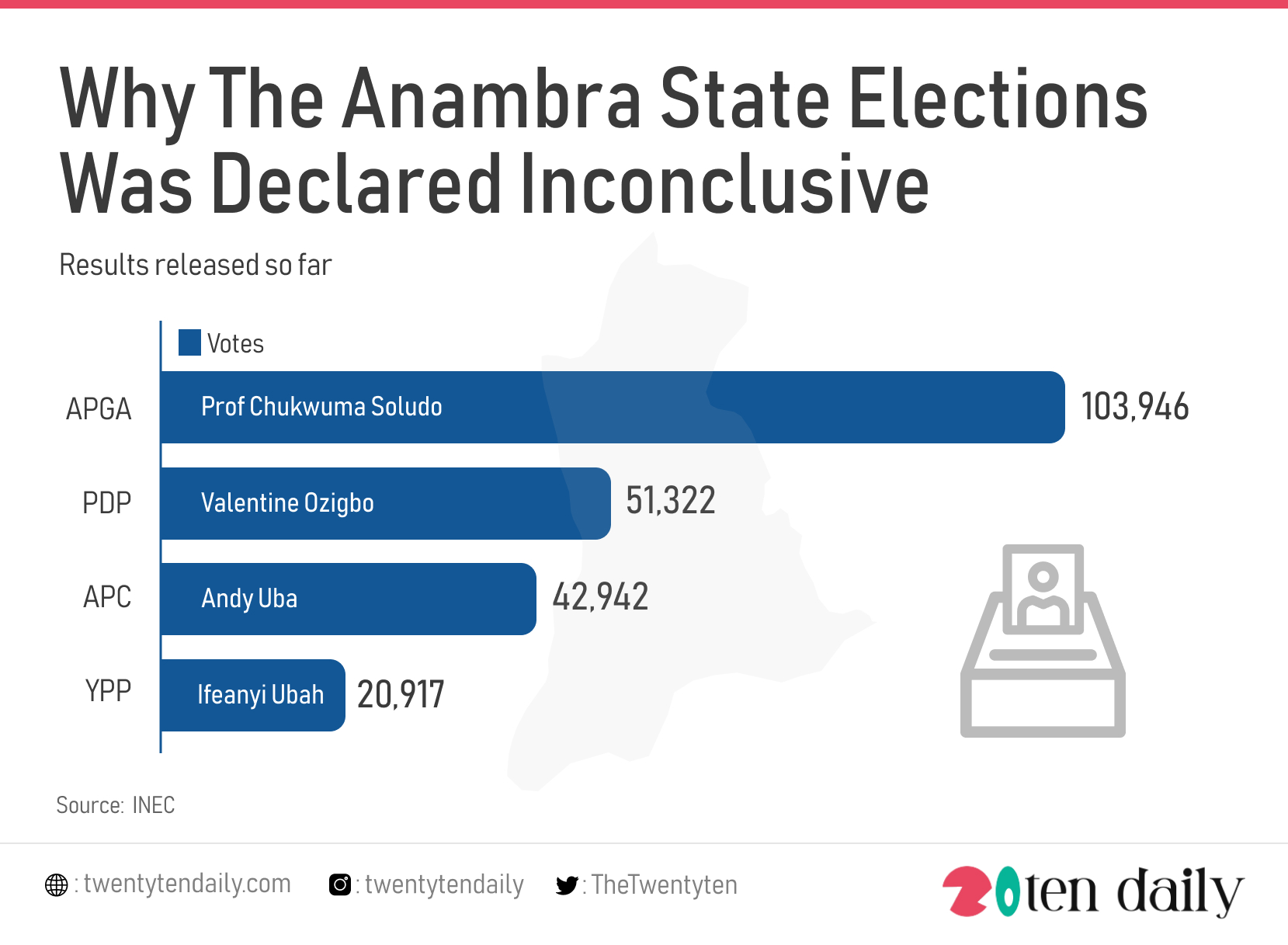 Results released so far by INEC puts the candidate of the All Progressives Grand Alliance (APGA) Prof Chukwuma Soludo in pole position to win the election. Soludo leads with 103,946 votes, followed by People's Democratic Party's candidate Valentine Ozigbo with 51, 322 votes.
The candidate for the All Progressives Congress (APC) Andy Uba has 42,942 votes, while the Young Progressives Party (YPP) candidate Ifeanyi Ubah has 20,917 votes.