Why Are People Protesting in Sudan? (Long Read)
While the Sudanese national team is keeping their heads high as they ball at this year's AFCON, citizens meant to cheer them on are currently being slaughtered by security forces in the country.
On Monday, Sudanese security forces opened fire on anti-military protesters, killing 7 and injuring around 100 others. Monday's deaths push to at least 71 the number of people killed in near-daily demonstrations in Khartoum and other cities and towns in Sudan. What remains unclear to many is the reason for the protests and why despite the deadly security clampdown, protesters are not deterred to march on daily.
Background of the conflict in Sudan
Sudan has suffered varying conflicts but the conflict which the current protests centres on is politically inclined. Democratic rule was first interrupted in Sudan by Dictator Omar al-Bashir back in 1989. 30 years after, al- Bahir was overthrown by a coup d'état and replaced by the Transitional Military Council (TMC).
In July 2019, with the help of the African Union and mediators from Ethiopia, a verbal and written deal was reached by the TMC and the Forces of Freedom and Change (FFC) alliance, on the formation of a 39-month long governmental institutions, under which the presidency of a transitional government would rotate between the military and civilians.
Protests in Sudan escalated on 25 October 2021, after the disruption of the agreed 39-month democratic transition in Sudan by the military. In their defense, the Sudanese military headed by General Abdel Fattah al-Burhan claimed the disruption of the civilian rule was due to political infighting. Political leaders were arrested and a state of emergency was declared.
After several unsuccessful attempt to call back civilian rule, the military in Sudan continues to hold on to power, forcing people to the streets to protest for their rights to a democratic system.
What Do Protesters Really Want?
The demonstrations spearheaded by the Sudanese Professionals Association and the Resistance Committees, which were the backbone of the uprising against dictator al-Bashir are calling for the military to fully hand over power to civilian government to lead transition.
The generals of the military government has however rejected the protesters' demands, saying that power will only be handed over to an elected government.
Casualties Of The Conflict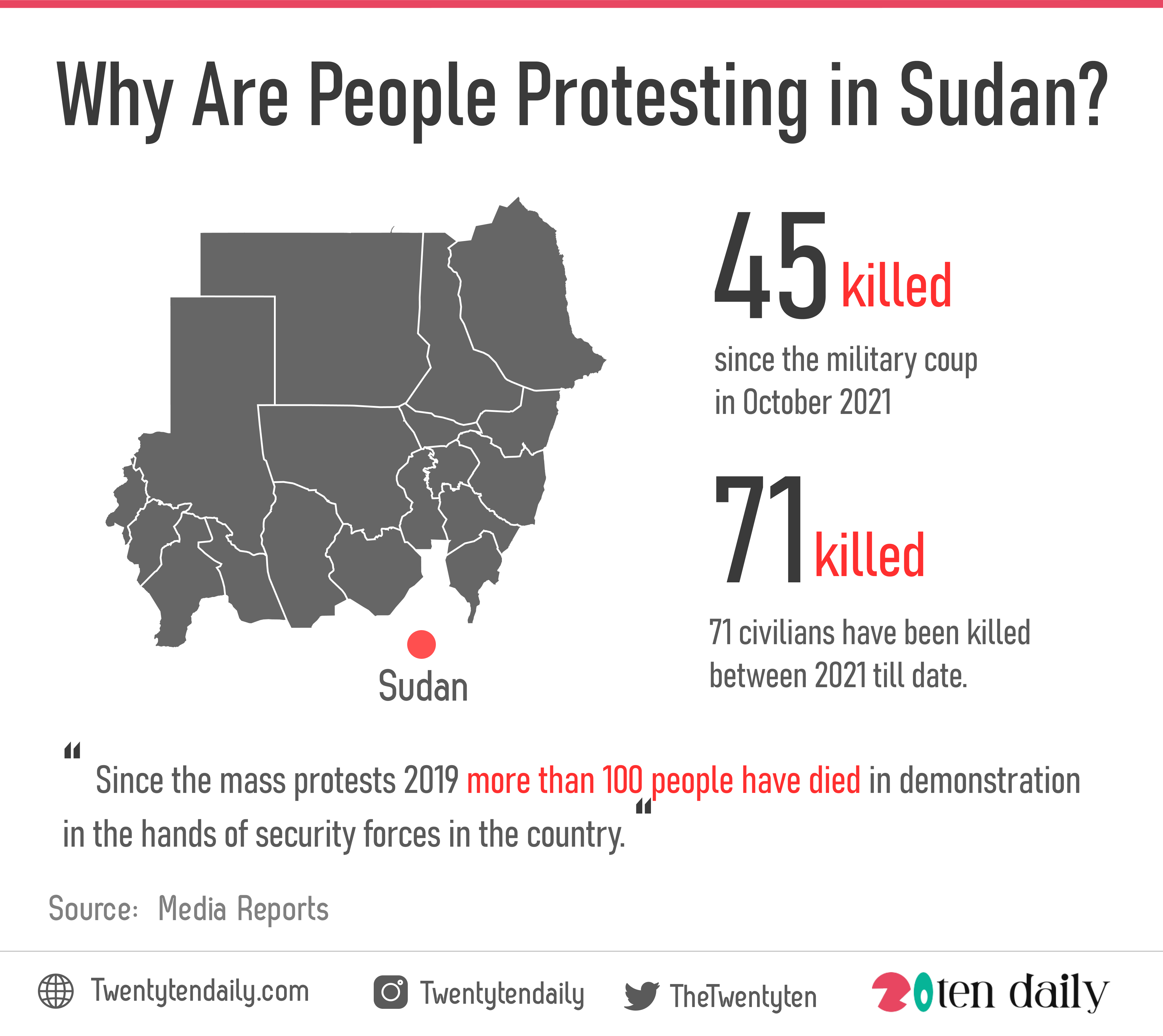 Since mass protests escalated in Sudan in 2019 which saw the ousting of dictator Omar al-Bashir and the beginning of the country's transition to democracy, more than 100 people have died in demonstration in the hands of security forces in the country. Activists say 200 people have been killed by security forces in recent years; 45 people alone have been killed since the military coup in October 2021 and a total of 71 have been killed between 2021 till date. Many people say violence against civilians is why they will continue to protest against the military from Sudan's capital, Khartoum.