US Researchers Offer Solution To Vaccine Inequality
Two years into the coronavirus pandemic and several variants later, the world is still struggling to vaccinate more than half of its population. Public health experts record that over 10 billion covid-19 vaccine doses have been produced since mid-2020, but more than 70 percent of the vaccines produced were consumed by wealthy nations.
For instance, the US has fully vaccinated 63 percent of its population while in significant parts of Asia, South America and the Middle East less than 50% have been vaccinated. Iraq's fully vaccinated rate is 15 percent, Syria is at five percent and Yemen at one percent.
According to the World Health Organization, many countries in Africa are below 10 percent in the portions of their populations that are fully vaccinated. Nigeria, a nation of around 212 million people has fully vaccinated less than 2.5 percent of its population. This challenge is what has been dubbed vaccine inequality.
Researchers in the US might have now found a solution to vaccine inequality by producing cheaper and easy-to-produce COVID-19 vaccine for global use.
Bypassing the major issue of patent restrictions argued by major pharmaceutical firms, doctors Maria Elena Bottazzi and Peter Hotez at the Baylor College of Medicine and the Texas Children's Hospital Center for Vaccine Development used traditional vaccine technology that can be deployed rapidly to help vaccinate the global population.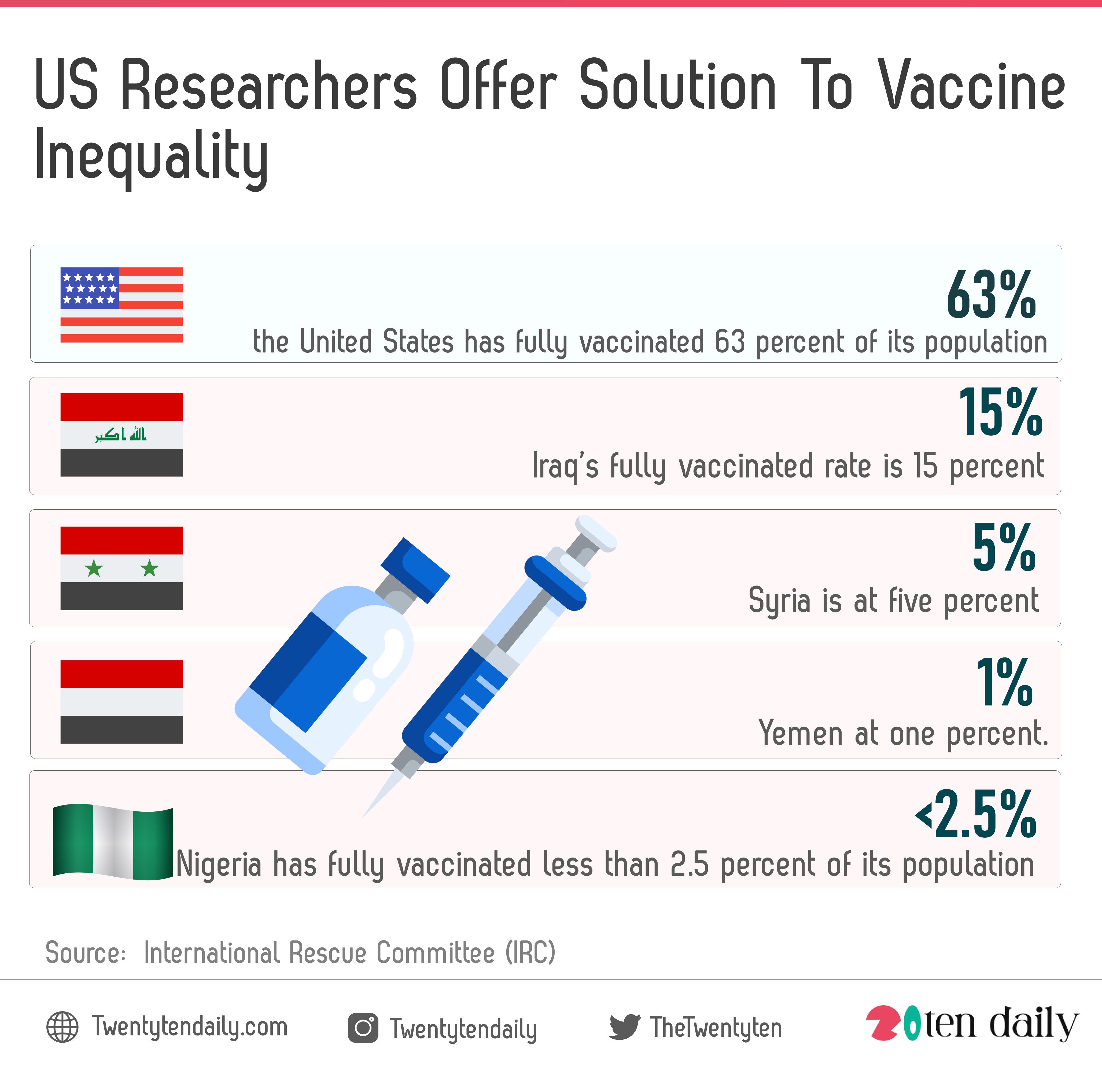 The New Vaccine And How It Works
The new vaccine known as Corbevax relies on conventional methods of production and is based on a model that the pair developed to address SARS, a coronavirus strain that broke out in the early 2000s.
Unlike the mRNA vaccine technology used by other pharmaceutical companies, the technology used for Corbevax is easier to produce and can also effectively trigger an immune response that isolates the virus. Health experts share that even though messenger RNA (mRNA) technology can be developed rapidly, they are difficult to produce or distribute on a massive scale when compared with older types of vaccines.
With the donation of $7 million from non-profit organizations, Bottazzi and Hotez was able to produce and license the vaccine "with no patents or strings attached" to pharmaceutical firms in India, Bangladesh and Indonesia.
Production talks are already underway in Bangladesh, Indonesia and Botswana, which means that hundreds of millions of doses a month could soon be produced locally in countries that need vaccines the most.
According to the Indian government, Corbevax is estimated to be sold at $2 a dose after production, while efficacy in preventing severe disease is predicted to be up to 90 percent, according to initial data from Indian pharmaceutical firm Biological E.