Transport Fares Rise By 41% Across Nigerian Cities
The National Bureau of Statistics has said that the average transport fare paid by commuters across Nigeria rose by 40.56 percent between September 2020 and September 2021.
The average transport fare paid by commuters in September 2020 was N309.73, while the same fare went for N435.36 in September, 2021.
NBS revealed this in its Transport Fare Watch report for September 2021 highlighting that from August to September, the average fare paid by commuters for a bus journey within major cities in the country increased by 1.11 per cent month-on-month.
The fare rose from an average of N430.58 in August to N435.36 in September, according to the NBS.
Breakdown Analysis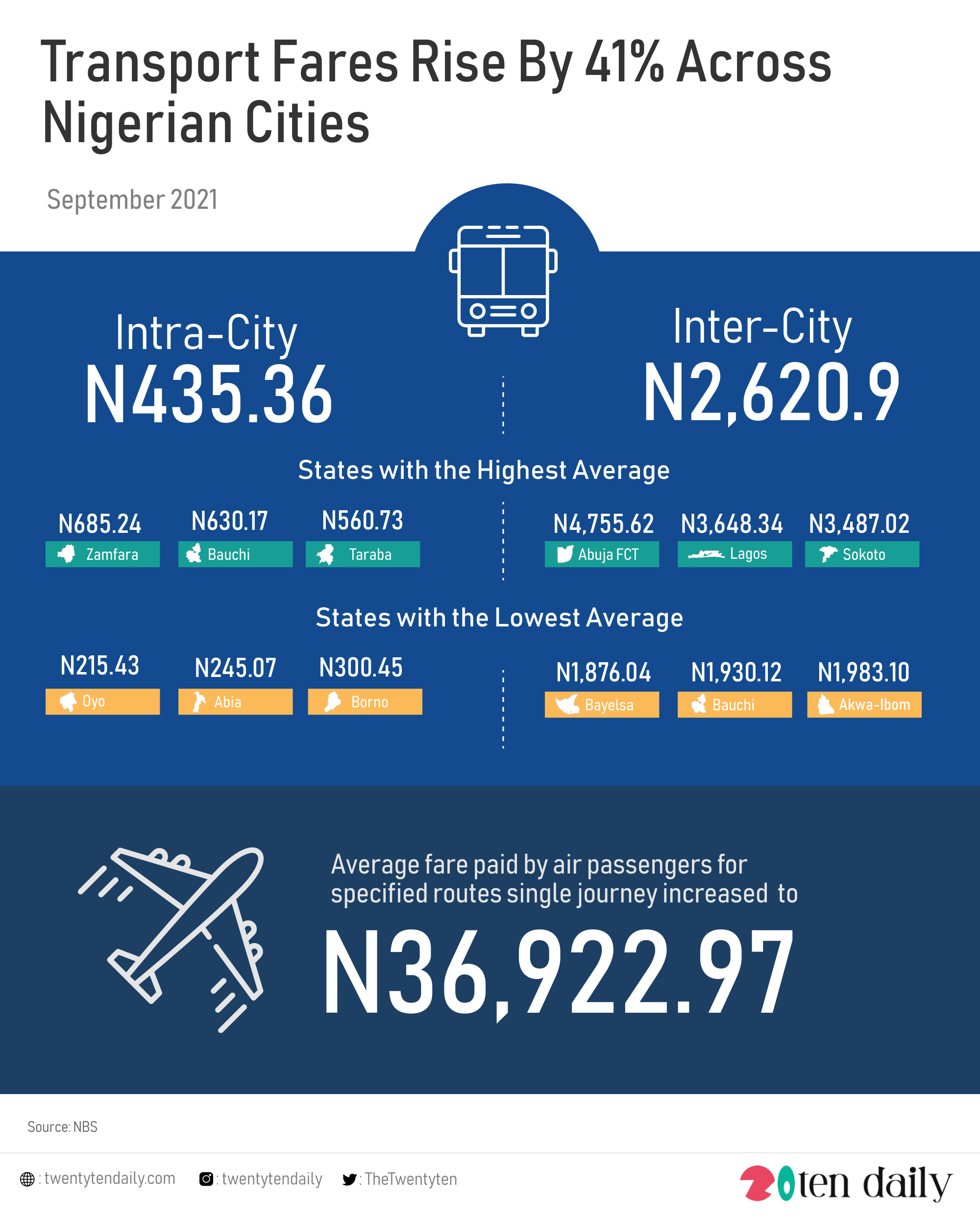 Zamfara State recorded the highest average intra-city bus fare of N685.24 during the month of September, followed by Bauchi State which saw an average bus fare cost of N630.17.
Taraba State was the third highest in the report with an average bus fare of N560.73. Meanwhile, the states with the lowest bus fare were Oyo with a N215.43 average cost, Abia with N245.07 and Borno with N300.45.
The NBS report read in part, "The average fare paid by commuters for bus journey inter-city increased by 1.24 per cent MoM and by 20.09 per cent YoY to N2,620.9 in September 2021 from N2,588.69 in August 2021.
"The states with the highest bus journey fare inter-city were Abuja FCT (N4,755.62), Lagos (N3,648.34) and Sokoto (N3,487.02) while states with lowest bus journey fare within the city were Bayelsa (N1,876.04), Bauchi (N1,930.12) and Akwa- Ibom (N1,983.10)."
The report showed that the cost of air travel saw marginal increases as the industry picked up gradually from the negative effects of the COVID-19 pandemic.
The NBS stated that the average fare paid by air passengers for specified routes (single journey routes) increased by 0.32 per cent MoM to N36,922.97 from N36,805.41 in the previous month. It also increased by 0.1 per cent from the corresponding period in 2020.