The Nigerian Refineries Accountability
In April, NNPC had to shut down all its four refineries to secure funding for their refurbishment. This means that these refineries had not processed almost any crude oil in months. Three refineries in Nigeria cost the country N148 billion in expenses but produced less than 40,000 metric tonnes of crude oil produced only by the Kaduna refinery, according to a report released by NNPC in June.
The Nigeria refineries were deliberately shut down because there was no Turnaround Maintenance (TAM) and significant rehabilitation. The Port Harcourt refinery is said to start the second phase of repair, and the NNPC is trying its best to ensure that four refineries are up and running by 2023.
Despite the refineries being shut down and no production in the refineries, the operational expenses were N10.27 billion, according to the report published by NNPC. The refineries lost a cumulative sum of N1.64 trillion from 2014 to 2018.
The refinery capacity of the three refineries keeps decreasing over the years, with a sharp drop in 2015. The refinery capacity utilization for the Kaduna Refining and Petrochemical Company fell as low as 0.40% in 2018 and 0.73% in 2019.
The Warri and Port Harcourt refineries had zero production but still had billions of Naira as operation cost. Irrespective of the enormous resources spent on Turnaround Maintenance (TAM), capacity utilization has declined between 2018 and 2019. The average capacity utilization of all three refineries in the past seven years does not reflect the amount spent maintaining the refineries from the TAM Scheme.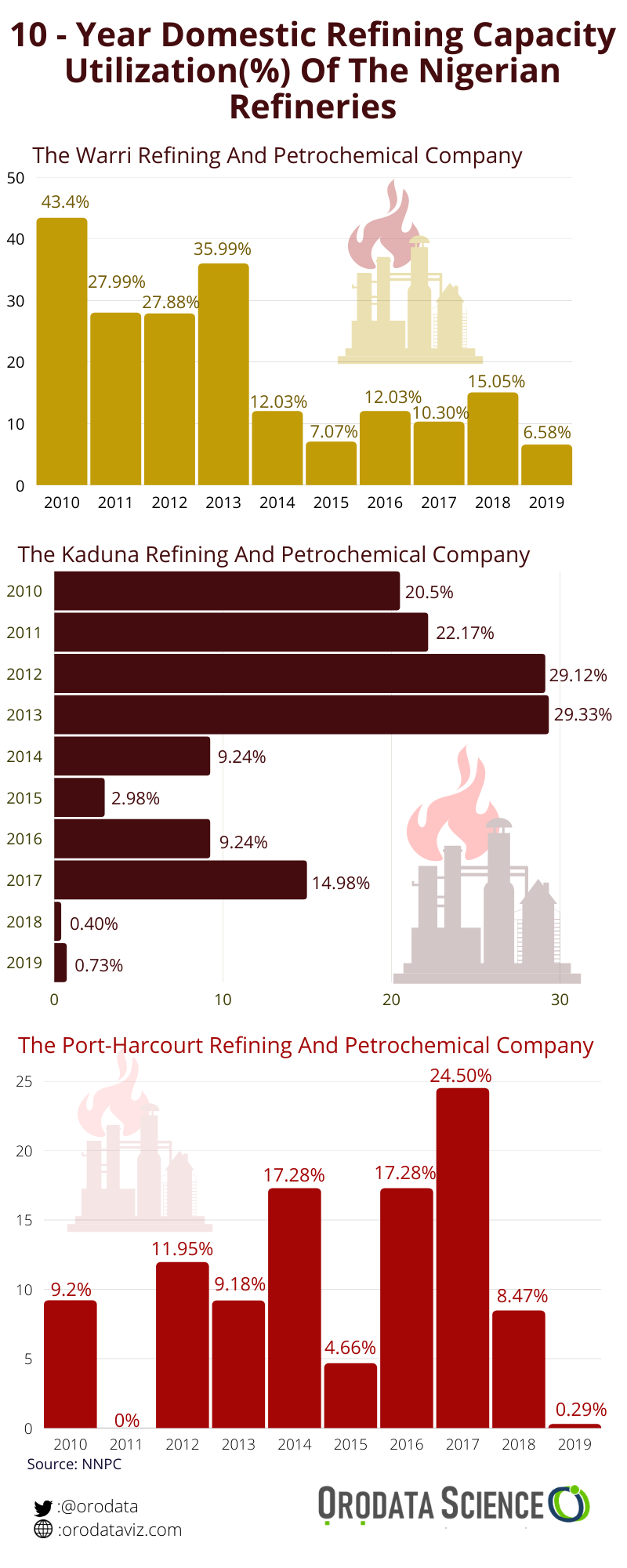 Various stakeholders have said that the problem associated with the Nigerian economy's oil and gas sector will persist if the government owns a significant stake in the industry's downstream industry. The Vice President, Prof Yemi Osinbajo, reiterated this during a virtual meeting in September this year, advising the government to help the private sector build up modular refineries and have no business running its refineries.
The Federal Government has disclosed that it wants to give up majority stakes in the government's four refineries; this was revealed by the Group Managing Director of the Nigerian National Petroleum Corporation (NNPC), Mele Kyari, during a discussion program on Channels Television on Wednesday, September 9, 2020. The FG wants to implement an operating model in which investors would operate and manage the refineries.