Sierra Leone Parliament Approve Bill To Ban Death Penalty
Sierra Leone has become the 23rd country in Africa to abolish the death penalty in all parts of the country.
Lawmakers in Sierra Leone unanimously voted on Friday to abolish the death penalty, a decision regarded as a victory for civil society organizations and legal practitioners who see the death penalty as a vestige of Africa's oppressive colonial history.
Sierra Leone would now replace capital punishment with life imprisonment or a minimum 30-year jail term for crimes such as murder or mutiny.
But Sierra Leone, which is still recovering after decades of civil war, has frequently come under fire from rights groups for keeping capital punishment on the books.
In May, Deputy Justice Minister Umaru Napoleon Koroma announced that the government would move to ban the death penalty to "uphold the fundamental human rights of Sierra Leoneans".
During a lively debate in the 146-legislature on Friday, Mathew Nyumah, the parliamentary leader of the ruling Sierra Leone People's Party, urged MPs to vote for abolition.
"Please understand this is something we are sacrificing to meet international best practices," he said.
Sierra Leonean President Julius Maada Bio would still need to sign off on the abolition voted by parliament before it becomes law, but people are confident he will.
The president thanked citizens MPs and rights groups in a statement on social media after the vote, saying they had "steadfastly stood with us to make history".
The vote in Sierra Leone comes as the use of capital punishment has been falling across the African continent, and more countries have been outlawing the practice.
"It's a dream come true in terms of criminal justice, to actually remove such a heinous penalty," said Simitie Lavaly, a member of Sierra Leone's Human Rights Commission and a lawyer who has represented people on death row.
Meanwhile, nearly half of Africa's 54 independent countries have abolished the punishment, more than double the number from less than two decades ago, while other only practice the law in some parts of their country.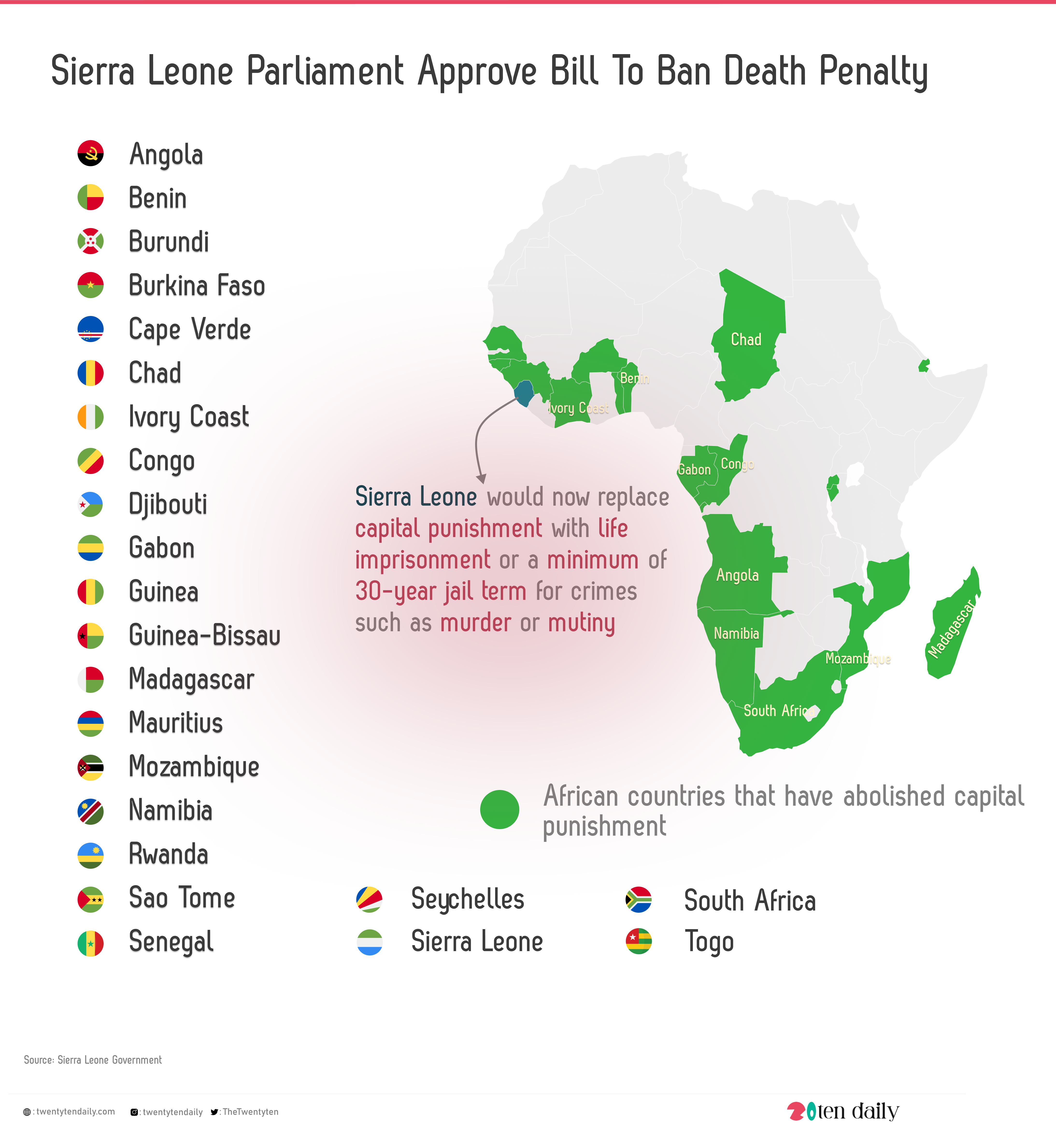 African countries that have abolished capital punishment include; Angola, Benin, Burundi, Burkina Faso, Cape Verde, Chad, Ivory Coast, Congo, Djibouti, Gabon, Guinea, Guinea-Bissau, Madagascar, Mauritius, Mozambique, Namibia, Rwanda, Sao Tome and Principe, Senegal, Seychelles, South Africa, Togo and Sierra Leone.