Ranking Nigeria On The World's List For Military Spending
On Monday, May 17, 2021, the Nigerian Defence Headquarters revealed that the military would require at least 2 billion dollars (about N826 billion) to tackle the worsening state of insecurity in the country.
According to the Production, Defence Headquarters director, Air Vice Marshall M. A. Yakubu, the annual allocation of funds for the military was insufficient while pointing that allocated funds does not cover the military's actual needs.
Nigeria's Military Spending From 2019 – 2021
In the past three years, the Nigerian government has spent trillions of naira on the country's security sector.
According to the Ministry of Finance's Budget and National Planning department, about N1trillion had been released for the Nigerian Army from 2019 till April 2021 and at the appropriate time.
The Minister of Finance also disclosed that the president also approved special funds for the military on request.
Giving a breakdown of the money disbursed to the Nigerian army between 2019 and April 2021, the Minister said N129.69bn was for capital; N39.76bn, overhead; N681.79bn, personnel and N157.6bn, special releases.
The Nigerian government allocated N1.76 trillion to the security sector in 2019, 1.78 trillion in 2020 and 1.96 trillion in 2021, representing a 14 percent increase from 2020
World Top Country's For Military Spending In 2020
According to SIPRI, America represents just under 40% of global military spending with its $778 billion, followed by China with 252 $billion.
Here is a list of 5 countries with the highest budget for military spending in 2020: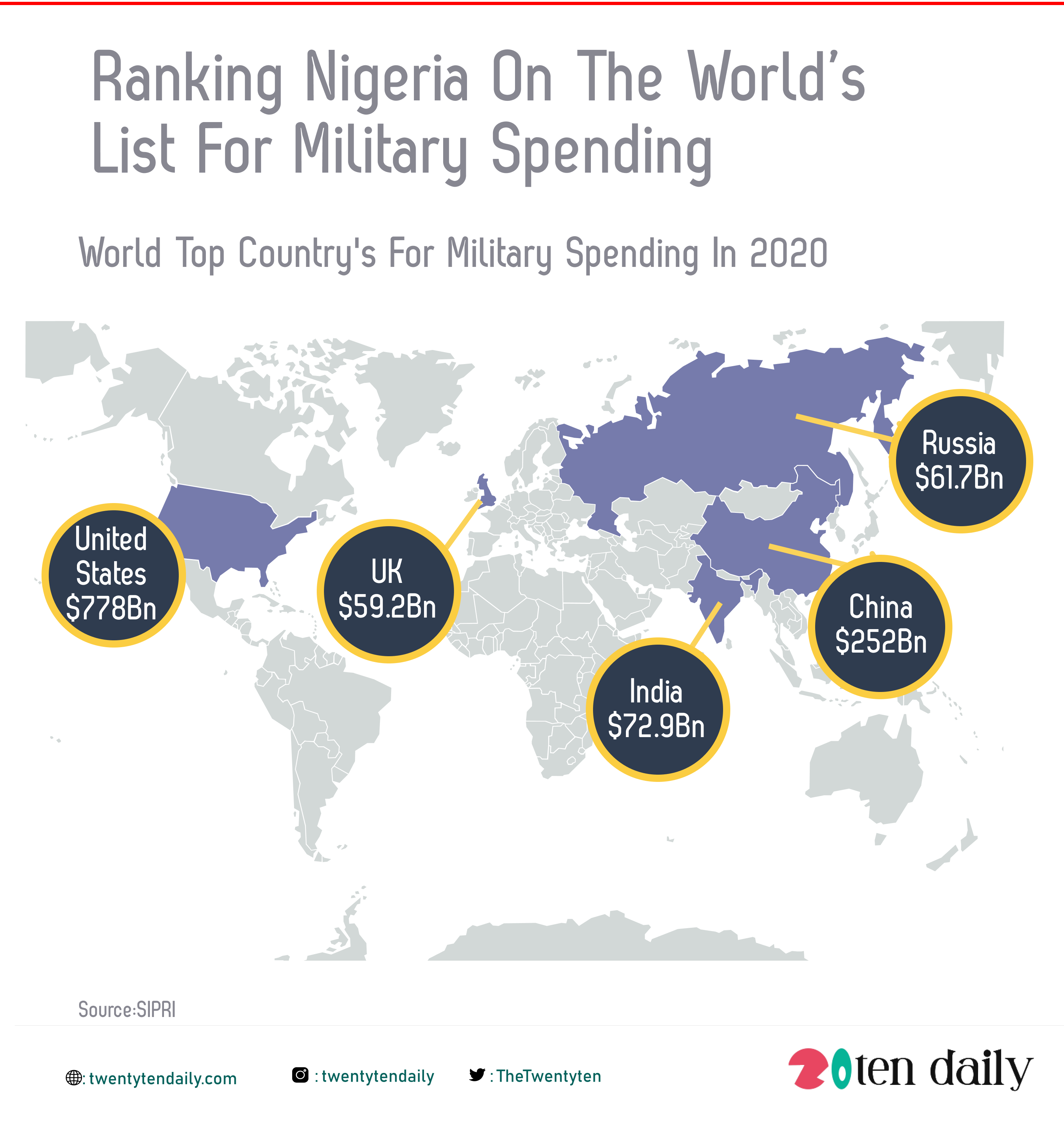 Comparing the Nigerian budget to the world's heavyweights, Nigeria's N1.78 trillion (over $4.3 billion) does not make it to the first 20 in the world in 2020.
However, in 2021, Nigeria's 1.96 trillion budget lands its military the 43rd position in the world's strongest military ranking, according to Global Fire Power. Note that other determinants were factored in as well.
2021 also sees Nigeria make its way to the top 10 list of the strongest military in Africa by military spending prowess, among 50 other determining factors. The Power Index Score (PwrIndx) is the module for measurement.
Nigeria ranked a PwrIndx of 0.7007, making it the 4th strongest country in Africa with a military strength of 1,400 armoured vehicles, 360 tanks, and 6,000 logistical vehicles at its disposal.
Egypt made the number one spot with military PwrIndx of 0.2081
Algeria made the second spot with military PwrIndx of 0.4659
South Africa made the third spot with PwrIndx of 0.5405
Nigeria, 4th position with PwrIndx of 0.7007
Ethiopia, 5th position with PwrIndx of 0,7361