PenCom: Only 15,418 Compliant Firms Can Do FG's Businesses
Between January 4 and May 10 2020, a total of 15,418 organisations got the National Pension Commission's clearance to do businesses of Ministries, Departments and Agencies.
This was obtained in a data report by the commission titled 'Schedule of employers issued with a certificate of compliance with provisions of the PRA 2014 as of 10 May 2021.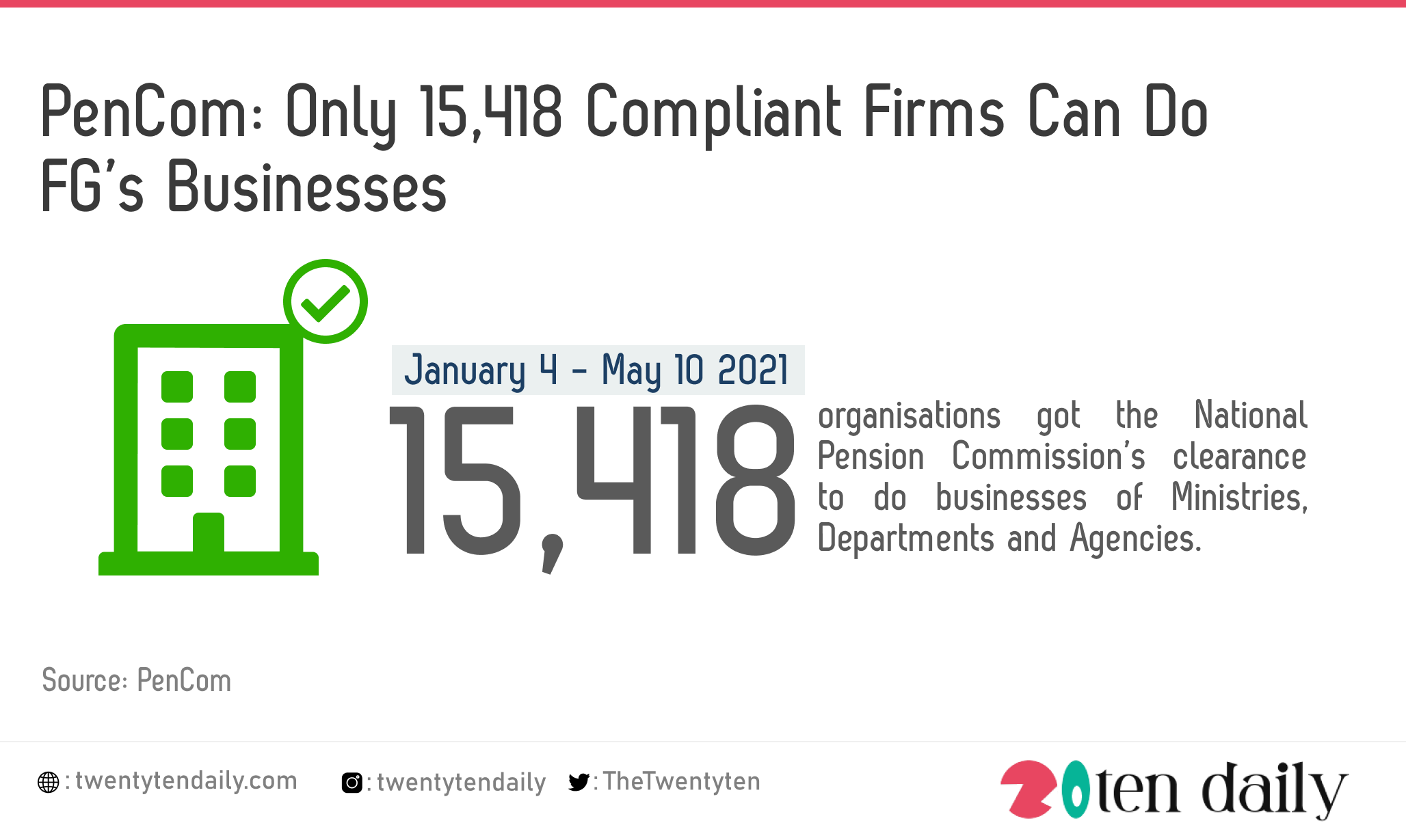 The clearance was given to them for complying with the National Pension Act's laws which stipulated that employers with at least three employees must have pension accounts and life insurance cover for their employees.
PenCom in its compliance guidelines for life insurance policy for employees and submission of insurance certificates issued to employers stated that companies that had no insurance covers for their workers would no longer be allowed to do any government business.
The regulations would be in addition to ensuring that the companies had appropriate pension accounts for the workers.
PenCom's directive on issuance of certificate of compliance with the provisions of the Pension Reform Act 2014 to the general public, suppliers, contractors or consultants bidding or soliciting for contract or business from any Federal Government ministries, departments and agencies, stated that employers must fully comply with the provisions of the law.
The clearance enables them to do business with the Federal Government for 2021 financial year.
"In that regard, the commission issues annual pension clearance certificates to eligible organisations.
"The MDAs are reminded to ensure that only pension clearance certificates issued by the commission are accepted as evidence of compliance with the Pension Reform Act 2014."
In the directive, PenCom stated that in accordance with the provisions of Section 4(5) of the 2014 and Section 5.5 of the guidelines for life insurance policy for employees, employers of labour covered by the PRA 2014 were required to submit copies of the insurance certificates with the schedule of benefits to the commission.
According to the commission, total assets under the Contributory Pension Scheme stood at N12.24tn as of the end of February.
Contributors under the scheme stood at 9,265,141 during the same period.