Military Air Raid In Tigray Kills 10, Including Children
Ethiopia's military has reportedly carried out another air raid on the capital of the war-torn Tigray region killing ten people and wounding more than 20, according to hospital staff.
The government of Ethiopia said the attack on Thursday, the latest in its campaign of air bombardments, hit a factory in Mekelle used by the Tigray People's Liberation Front (TPLF), destroying the second part of Mesfin Industrial Engineering. The facility is used by TPLF terrorist group for "maintaining military equipment," government spokeswoman Selamawit Kassa said.
Dr Hayelom Kebede, research director at Mekele's Ayder Referral Hospital, said a residential area was hit and casualties were inflicted.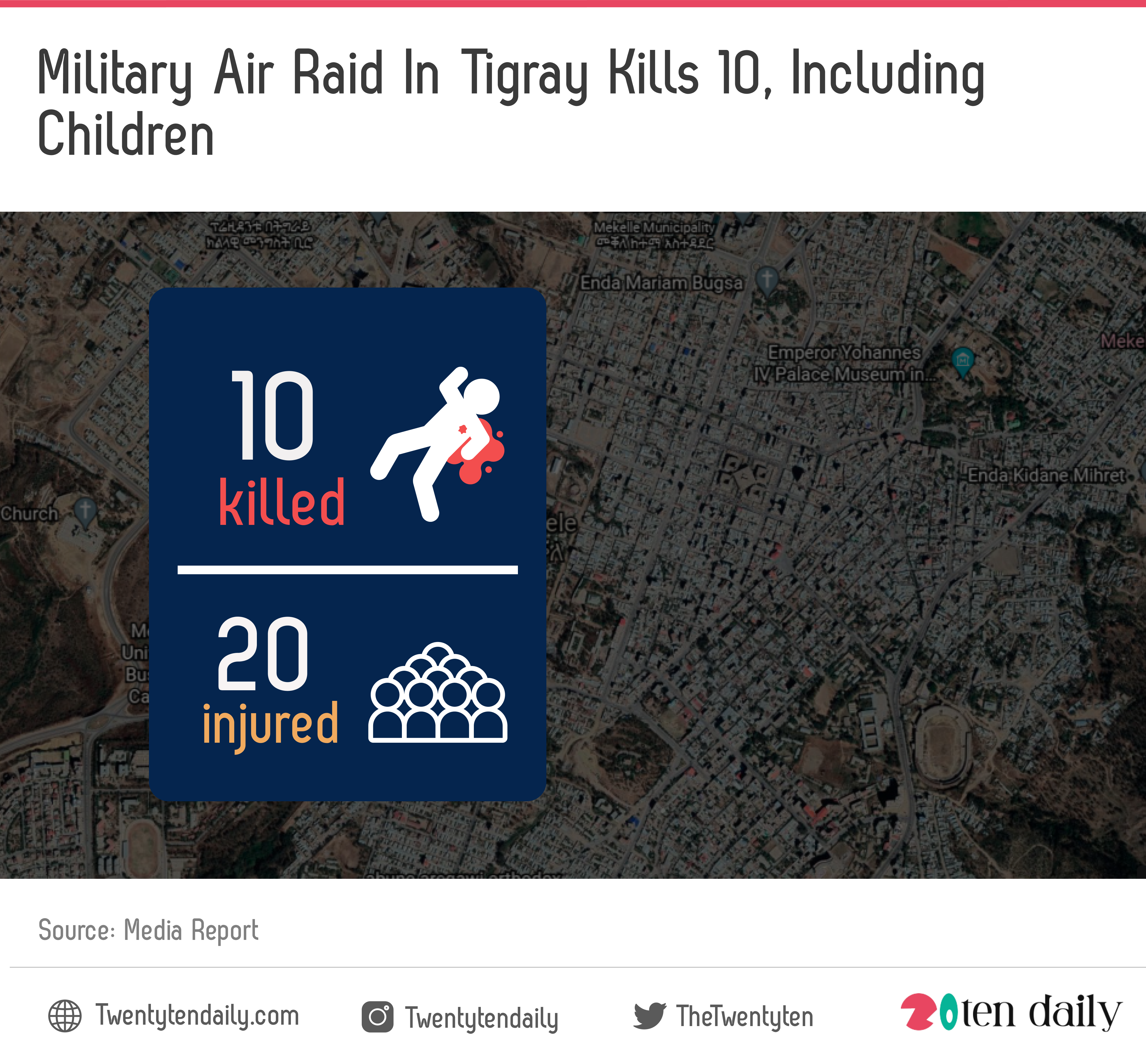 "The death toll reaches 10," Kebede said, up from his earlier count that put the number of dead at six and listed 21 people as injured. He predicted the death toll would rise because medical care is severely constrained.
The Tigrai Communications Affairs Bureau, a TPLF-linked information channel, also reported casualties and said the strike had hit a residential area.
Nahusenay Belay, a Tigray spokesman, denied that the air raid hit a military target and said it struck a "civilian residence". Three children were among the dead, he said.
Earlier, TPLF spokesman Getachew Reda confirmed the attack on Mekelle and said the rebels' air defence units were engaging an enemy jet.
A doctor told the Reuters news agency that the attack hit the residential Kebele 5 area.
When asked by Reuters for a comment on the alleged civilian deaths, government spokesperson Legesse Tulu replied in a text message: "There is not any intended and deliberate harm on civilians and their properties. The airstrike successfully hit its target."
Much of northern Ethiopia is under a communications blackout and access for journalists is restricted, making battlefield claims difficult to verify independently.
Tigray was pounded by near-daily aerial bombardments last week as the military stepped up its use of airpower in the year-long war against the TPLF.
Ethiopia's government has asserted that the latest air raids have been confined to military targets, but Tigray forces have asserted that civilian facilities including factories and a clinic have been targeted instead.
The government said the facilities bombed in northern and western Tigray were military in nature and aiding the TPLF, the former governing party in the region.