Japan Joins Investment Pool, Pledges $30 Billion in Aid for Africa
Japan has joined other countries like China and Russia to compete in Africa's investment market. The country recently pledged $30 billion in aid for development in Africa, saying it wants to work more closely with the continent.
At the eighth Tokyo International Conference on African Development (TICAD8) held in Tunisia, Japanese Prime Minister Fumio Kishida said Tokyo would work to ensure grain shipments to Africa amid a global shortage.
Japan's investment strategy would focus on food security, a much needed aid that could allow it rival other countries in the African investment market.
The Prime Minister added that the $30 billion in aid from Japan would be delivered over three years, while smaller sums would go into food security in coordination with the African Development Bank.
The conversation at the summit also bordered on debt relief for Africa. The continent is drowning in severe debt, especially to China, with Beijing regarded globally as the single largest creditor to Africa.
The International Monetary Fund (IMF) also recently warned that Africa is currently into suffering a debt crisis, with the number of countries at high risk doubling over the next few years.
The Jubilee Debt Campaign, a coalition of organizations in the United Kingdom dedicated to debt relief for developing countries calculated that as of 2018, around 20 percent of all African government debt is owed to China. Due to the magnitude of these debts, some experts argue that China holds a special role for the debt relief campaign for Africa.
In 2018, the total amount of external debt for the continent was estimated at $417 billion (£317 billion), a figure that has doubled in the last four years, hence the need for urgent debt relief.
Most of China's loans to Africa go into infrastructure projects such as roads, railways and ports.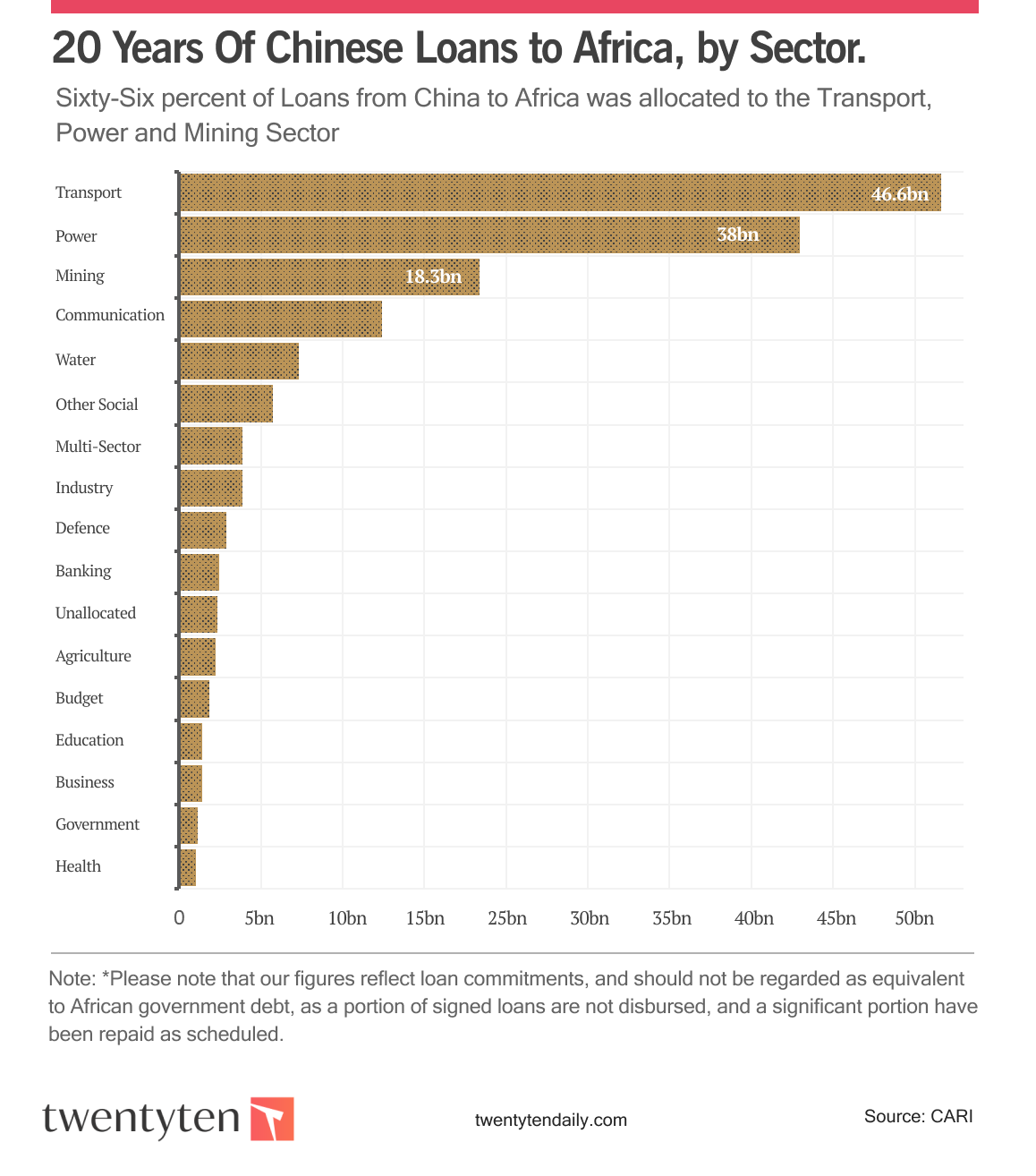 In 2015, the China-Africa Research Initiative (CARI) at John Hopkins University identified 17 African countries with risky debt exposure to China, potentially unable to repay their loans.
It says three of these – Djibouti, Republic of Congo and Zambia – remain most at risk of debt distress derived from these Chinese loans.
In 2017, Zambia's debt amounted to $8.7 billion (£6.6bn) – $6.4billion (£4.9bn) of which is owed to China.
In conclusion, while China and other countries argue that its economic and financial relationships with African countries are mutually beneficial and pose no threats to the growth of the continent, pointers suggest it might be a guise to exploit Africa in order to expand their global influence.