Inflation Bites Harder In Nigeria As Food Price Rises By 21.03%
A market survey report by People's Gazette has revealed the drastic rise in food prices as the country suffers another wave of food inflation growth in the last quarter of the year.
Food inflation rose by 21.03 percent due to the constant depreciation of the naira against the dollar and rigid importation laws by the present administration.
According to the report, a bag of beans (depending on the variety) now sells between N50,000 to ₦100,000 from ₦30,000 at the beginning of September.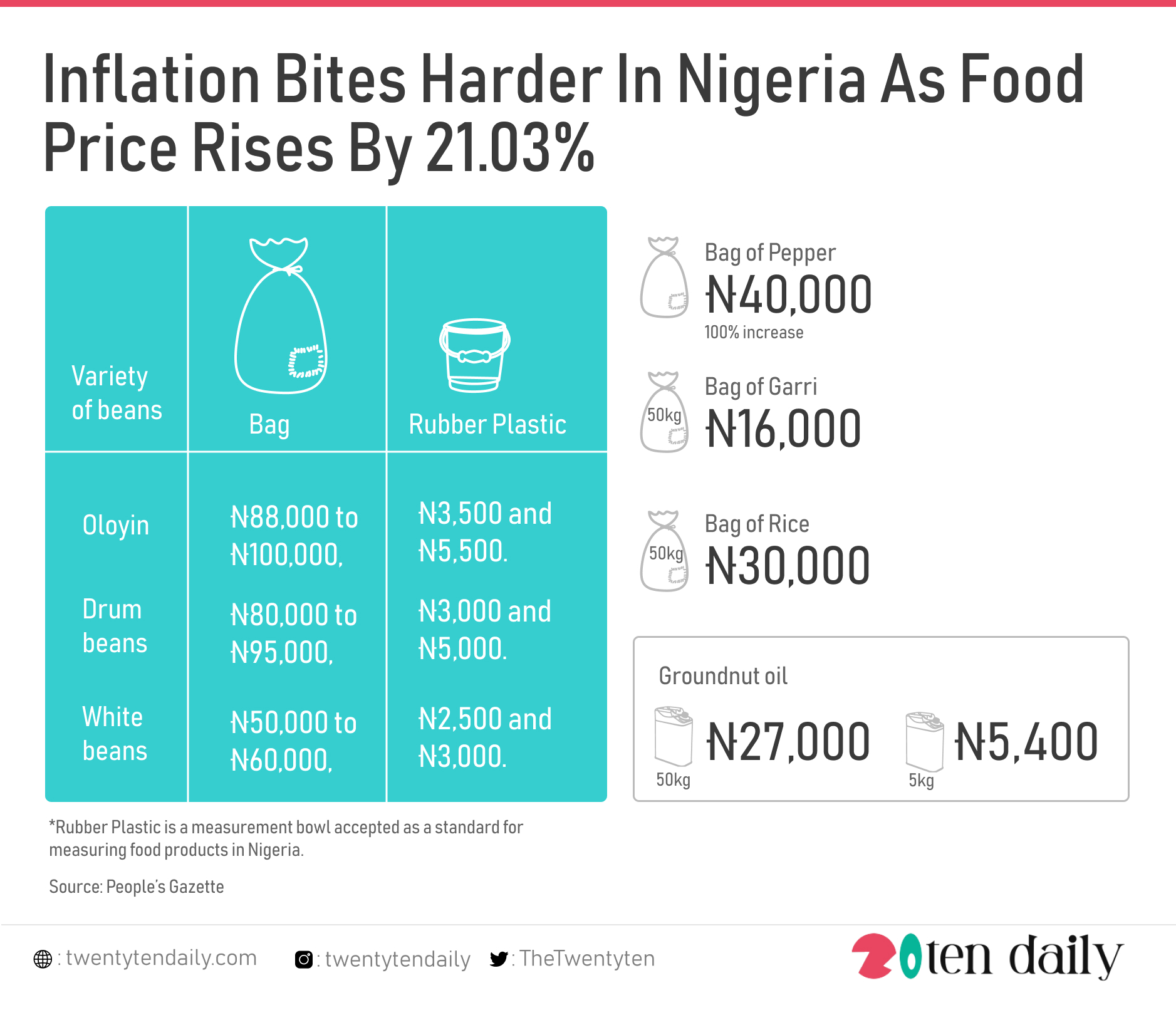 The price of a bag of beans (50kg), the 'Oloyin' variety, ranges from ₦88,000 to ₦100,000, while Plastic Rubber* costs between ₦3,500 and ₦5,500. Another beans variety, 'Drum', cost between ₦80,000 and ₦95,000, while the Plastic Rubber cost ₦3,000 or ₦3,500. A bag of white beans cost between ₦50,000 and ₦60,000, while the Plastic Rubber price could be ₦2,500 or ₦3,000.
The price for a bag of pepper also rose by 100 percent from ₦15,000 in 2020 to ₦40,000 in August this year.
50-kilogramme (kg) bag of Garri and rice have also risen in price to ₦16,000 and ₦30,000 respectively. Groundnut oil now costs ₦27,000 for 50kg and ₦5,400 for 5kg.
The current economic realities make it harder for low-income earners to survive in the country. Unfortunately, the hardship has in no way forced the government to increase the national minimum wage. The nation's minimum wage remains ₦30,000, mainly applicable to civil servants (both federal and state). Some private-sector business owners pay as low as ₦10,000.
*Rubber Plastic is a measurement bowl accepted as a standard for measuring food products in Nigeria.