Ghana To Begin Talks With IMF As Inflation Rates Reach An 18-Year High
Last week, hundreds took to the streets of Ghana's capital, Accra, to protest the country's spiralling inflation and other economic woes. Perhaps the two-day protest influenced the government's decision to reconsider its previous stand on seeking financial aid from the International Monetary Fund (IMF).
The West African country's cabinet supported the decision at a meeting on Thursday, following a phone conversation between President Nana Akufo-Addo and IMF Managing Director Kristalina Georgieva.
New reports from Information Minister Kojo Oppong Nkrumah shared that an IMF team will be in Ghana to start talks with the Ghanaian authorities from July 6.
Until now, Ghana had refused to seek IMF support to rescue its economy crippled by the pandemic, rampant inflation and a depreciating currency, despite analysts warning the country was close to a debt crisis.
"A potential IMF program could play an important role in helping the country entrench its fiscal consolidation path and reduce debt vulnerabilities," according to Samantha Singh, a Johannesburg-based Africa strategist at Absa Bank Limited. "The sooner these policies are implemented, it could also reduce the severity of any potential liability management."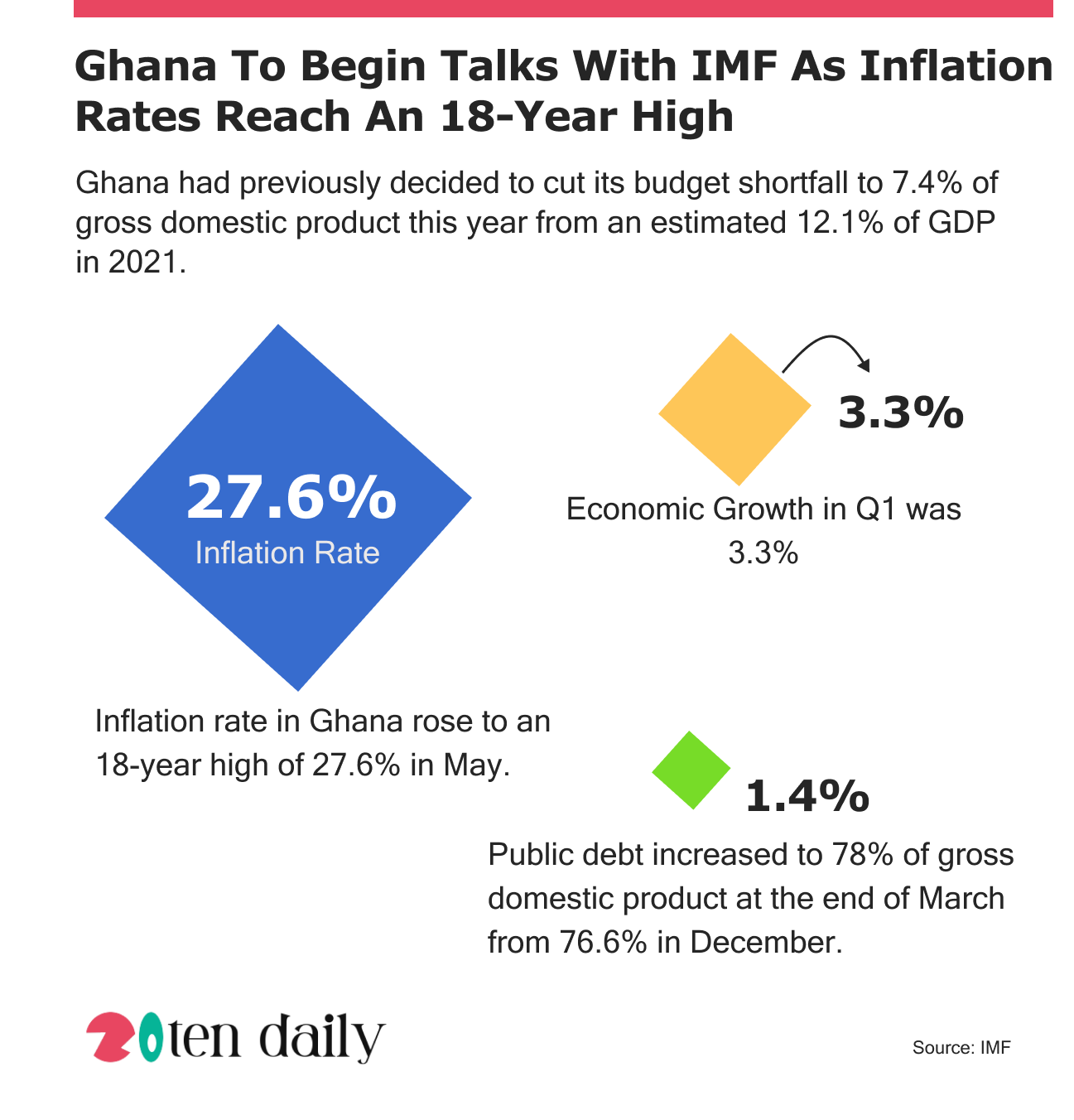 Ghana had previously decided to cut its budget shortfall to 7.4% of gross domestic product this year from an estimated 12.1% of GDP in 2021, but the continued global inflation caused by the Russian invasion continues to take a toll on the country's economic activity.
In May, inflation in Ghana took an 18-year high of 27.6%, while the economy expanded less than expected in the first three months of 2022 at 3.3%. Public debt increased to 78% of gross domestic product at the end of March from 76.6% in December.
Economist and Research Fellow at the Institute for Fiscal Studies in Accra, Leslie Dwight Mensah, added that the aid from the international financial organization would improve foreign confidence in "the country's capacity and efforts to weather the crisis."
New reports now show that Ghana's Eurobond rose 1% to 65.82 cents in the dollar at 2:52 p.m on Tuesday. According to Bloomberg, the bonds had been trading at distressed levels, with yields above 20%, before Ghana announced its move to engage the IMF for balance-of-payments support.