Fact Check: Are African Software Developers In High Demand Globally?
The best part of the pandemic at its peak was the reliance on remote working that directly advanced computing technology in Africa. A Google report showed that the pandemic created more remote employment opportunities for African developers, leading to a global rise in demand for remote tech talent.
In the Africa Developer Ecosystem report, data gathered from 1,600 participants from Kenya, Tanzania, Nigeria and 14 other countries showed that 38% of African software developers work for at least one company based outside of the continent.
"Across the continent, the pool of professional developers increased by 3.8% year on year. The total number of developers in Africa is now 716,000," the survey disclosed.
Other countries included in the survey are Uganda, Rwanda, Algeria, Cameroon, Egypt, Ethiopia, Ghana, Ivory Coast, Kenya, Morocco, Mozambique, Senegal, South Africa and Tunisia, with Nigeria, South Africa and Egypt leading with the highest number of new software developers.
Nigeria particularly takes the forefront with an estimated 5,000 new software development professionals in its talent pool in 2021.
The West African country even has an online academy, Alt School Africa, that is attracting programming students from countries around the world by offering an elaborate curriculum in computer programming. So far, the digital campus has received more than 8,000 applications from 19 countries for its software engineering program which starts in April.
Morocco added 3,000 new professionals, while South Africa, Kenya, Egypt, and Tunisia added 2,000 each to their talent pool.
On the other hand, South Africa leads the continent in the total number of software developers, with 121,000 followed by Egypt and Nigeria tying at, 89,000 each.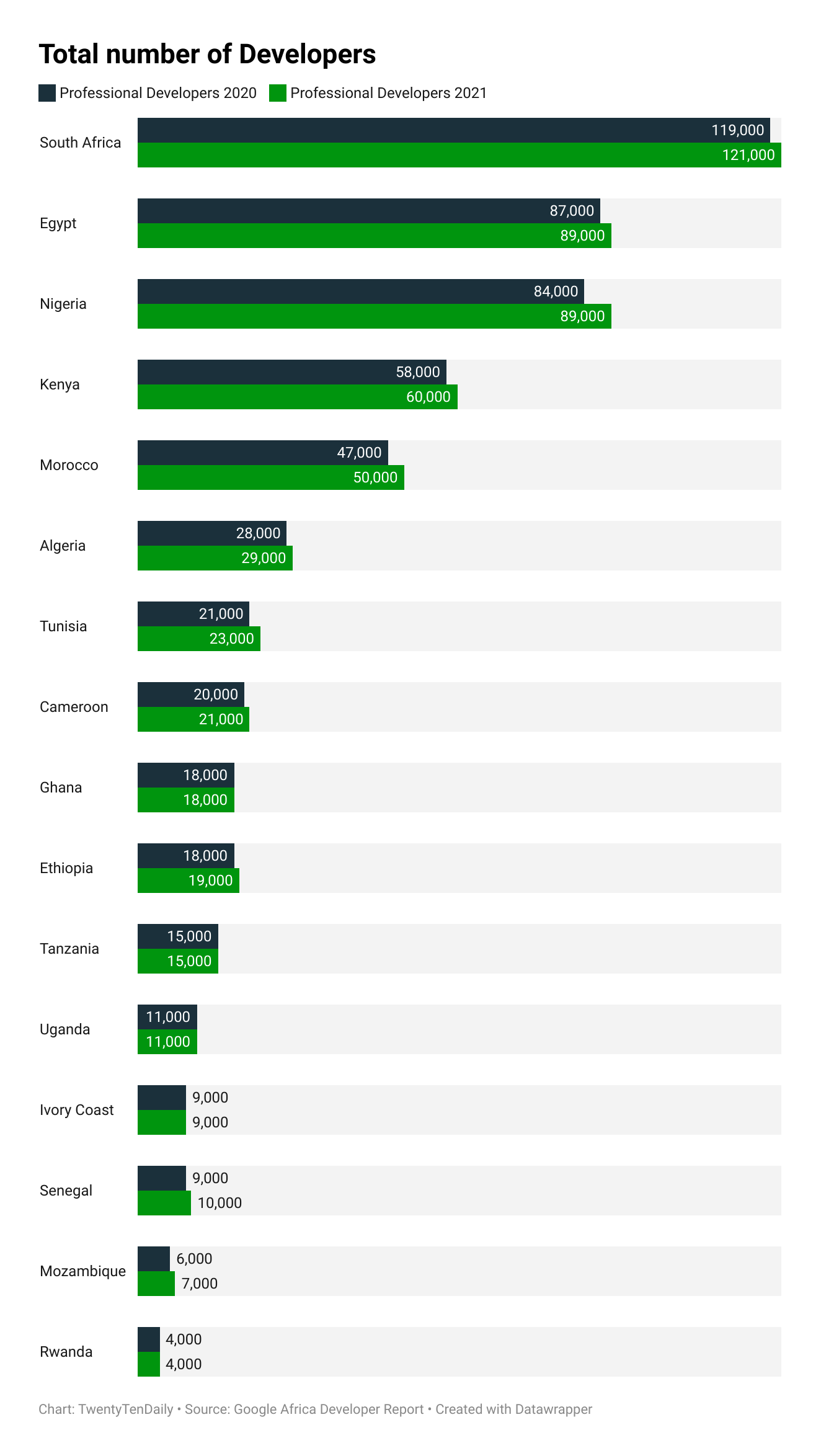 The report also shared that the number of African professional developers in the workforce defied economic contractions to increase by 3.8% or, 716,000 making up 0.4% of the continent's non-agricultural workforce.
African developers are not only excelling with overseas employment, but they are also building capacity with tech startups that hire more than half of local developers, with foreign companies outside the continent hiring 38% of the remaining talent.