Clubhouse Reaches $1.2 Billion Valuation in 11 months
Some eleven months after its launch in March 2020, new reports have revealed that Clubhouse is now valued at $1.2 billion even though it has yet to post a revenue.
Free to all IOS users and currently operating without ads, Clubhouse currently boasts an estimated 2 million weekly active users on the back of its voice-based chatrooms. With the company's recent announcement of additional funding led by Andreessen Horowitz's Andrew Chen, the company says it plans to create an Android app, start a program that allows creators to get paid via tips and subscriptions, and invest in tools to detect and prevent abuse.
The final part will be crucial. The funding round comes at a time when social media companies are trying to find the tricky balance between content moderation and free speech. Clubhouse has been no stranger to the problem in its rapid rise: Among the controversies includes one chatroom titled "Anti-Semitism and Black Culture" that drew accusations from some over perpetuating racial stereotypes and anti-Semitism.
Clubhouse Usage Statistics
Clubhouse has 6 million registered users, up from 600,000 in December 2020 and 1500 users at inception in March 2020.
Clubhouse is currently valued at $1 billion (up from $100 million in May 2020)
Clubhouse has raised over $10 million to date.
Over 180 organizations and venture capitalists have invested in Clubhouse to date.
With its $1 billion valuation, Clubhouse is now a Unicorn startup, joining the ranks of Uber and AirBnb.
Clubhouse is currently ranked #5 in the App Store under the "Social Networking" category.
Clubhouse officially launched in March 2020.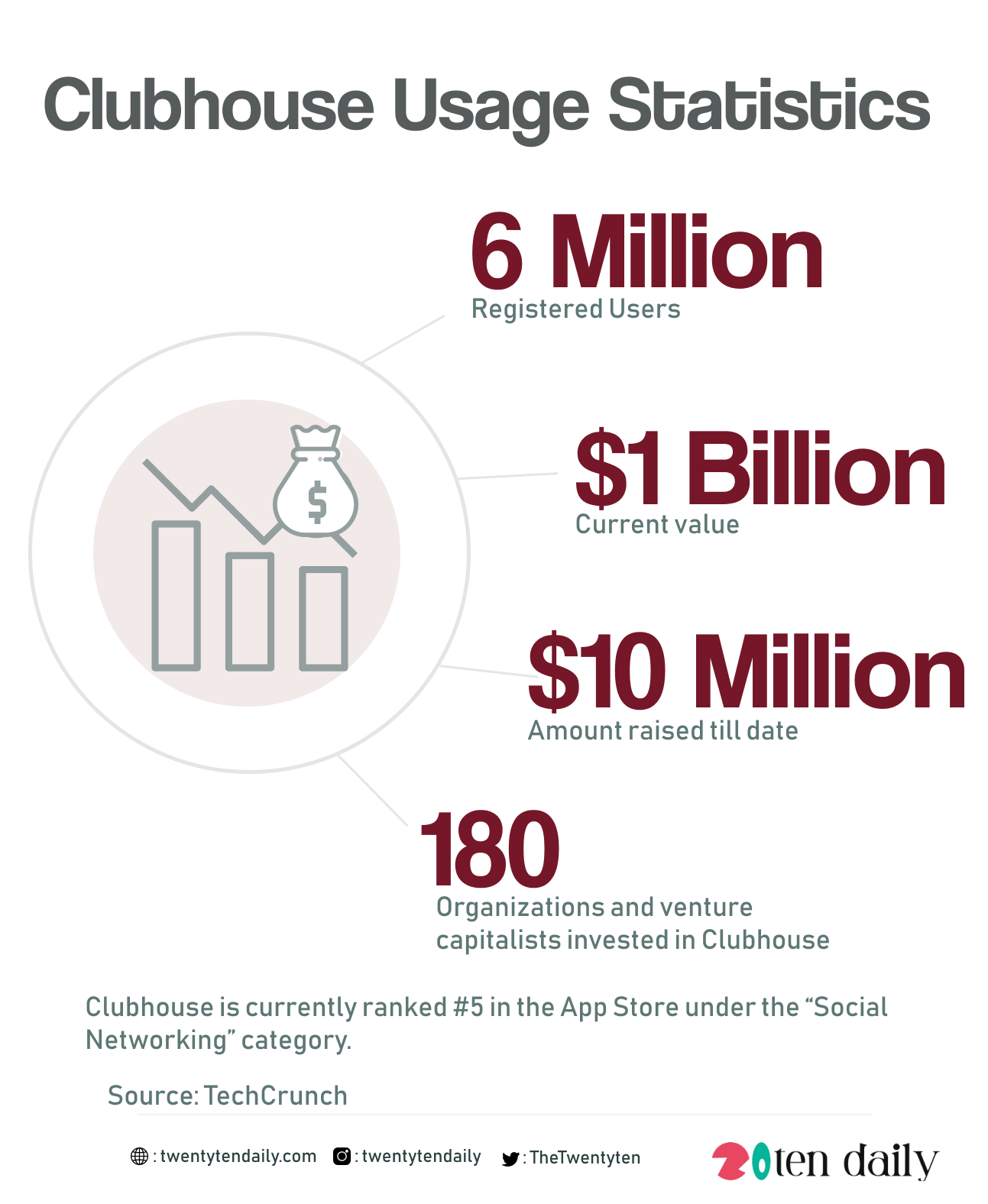 How many people use Clubhouse?
Clubhouse currently has 6 million users, according to data obtained from tech writer Vajresh Balaji. That's impressive considering that the platform had 2 million users in January 2021, according a town hall meeting hosted by CEO Paul Davidson. And only 1,500 in May 2020.
How popular is Clubhouse?
Clubhouse is currently the 5th most popular app in the "Social Media Network" category of the App Store, behind Facebook, Messenger, WhatsApp and Discord.
According to Fortune, Clubhouse has been downloaded 2.3 million times in January 2021 alone.
And data from Appfigures data shows that 30% of all Clubhouse downloads to date have happened since January 28th.